Published by Lookforzebras
There are more nonclinical jobs for doctors than most people realize. For a physician considering a transition from clinical medicine, it can be tough to even know where to begin in exploring all the options, which cover numerous industries, sectors, and organization types. I'm excited to announce a new tool – right here on Look for Zebras! – to address this. 
Introducing the "Which nonclinical career is right for you? quiz 
The new quiz, Which nonclinical career is right for you?, consists of 50 multiple choice questions on multi-faceted factors that can influence how well a career area fits yours interests, strengths, background, and goals.  
Examples of question topics include: 
Activities you enjoy participating in 
Types of work that make you feel rewarded 
Whether you're introverted or extraverted 
How you enjoy spending your time 
It also includes questions about logistical preferences, such as whether you're willing to travel for your job, to work from home, or to manage a team.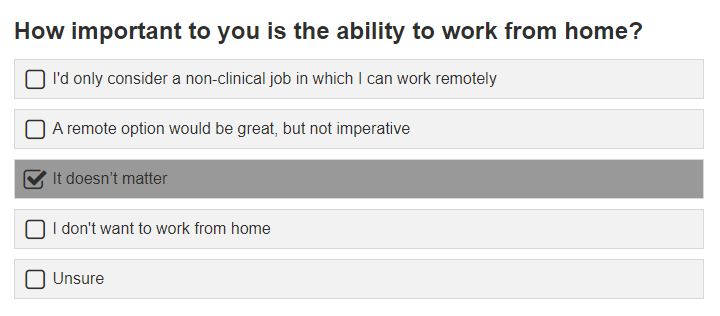 Most doctors who have taken the quiz so far have completed it in under 10 minutes. 
After answering the questions, you're presented with a nonclinical career option that may be a great fit you based on your responses. This is assigned based on an extensive system of point values corresponding to each answer option for all of the available job types. There is also a brief description of your result, including an overview of the job and types of responsibilities.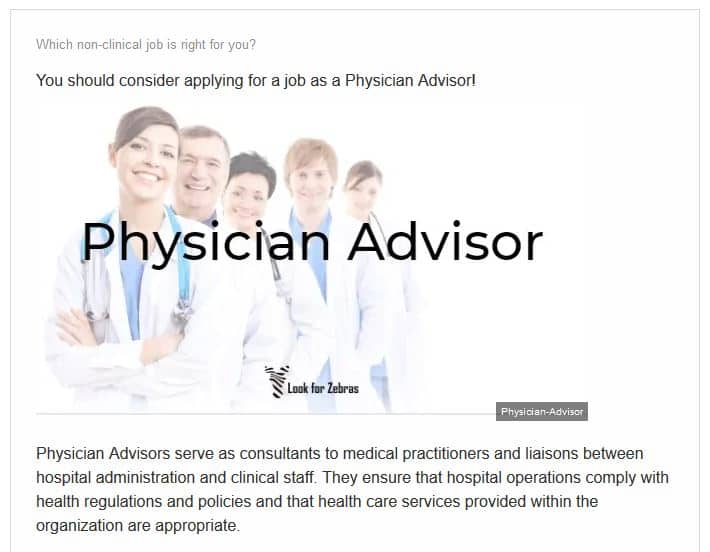 ---
Why did I develop a quiz on nonclinical jobs for doctors? 
I hear from a lot of physicians and other medical professionals interested in nonclinical or alternative careers, but uncertain of what their options are or where to begin in the search. With so many possibilities available and very limited exposure to them throughout our training and in clinical work, it can be difficult to know right off the bat what type of job to look into. 
Many resources about nonclinical career options have shortcomings. Two primary faults of these resources include presenting too few options (eg, "You don't like seeing patients? Just take a job with an insurance company or start your own business!") and providing inaccurate or downright false information ("Medical science liaisons are all PhDs, not MDs.") 
This quiz was developed to give doctors a tangible place to start that makes sense for their personal situation. Rather than randomly suggesting that you look into jobs in the pharmaceutical industry or start signing up for chart review positions, this quiz makes a suggestion based on your individual preferences and values. 
This is not a BuzzFeed quiz 
You've likely come across quizzes on the Web or on social media that assign a result to you based on how you answer a series of questions. These are popular on BuzzFeed, with example quiz titles including: 
"Which Netflix boyfriend is your soulmate?" 
"Everyone is a combination of a Disney princess and a character from 'Parks and Rec' – here's yours." 
"Which iconic movie blonde are you?" 
These are rarely as entertaining as the number of "Likes" on Facebook suggest they might be. And they are far from informative for any real-life situation.  
The nonclinical jobs for doctors quiz is far from a BuzzFeed quiz. 
Though technically for entertainment purposes only, I've put a lot of time, research, and effort into ensuring that this quiz touches on the right areas and provides a sensible and well-matched result to every quiz-taker who accurately and thoughtfully answers the questions. 
Similarities to personality tests and career quizzes 
Personality tests such as the Myers-Briggs Type Indicator (MBTI) or the DiSC Personality test can be quite insightful in many ways, for instance: 
Helping you learn your behavior traits and tendencies 
Identifying your motivations 
Recognizing how you can communicate more effectively 
Assessing your interpersonal skills 
Though there are a number of criticisms of the MBTI, many people find it astoundingly informative in understanding themselves. Moreover, considerable research on the MBTI has demonstrated some interesting findings, such as how personality type correlates with income level. 
Similar in many ways to personality tests, career aptitude tests can be quite helpful for people of all education levels in a wide range of fields to help determine what type of work is fitting for them. 
In fact, many medical students use this type of quiz to help them select a medical specialty. AAMC has a collection of self-assessments to help students explore specialty options. Student Doctor Network also has a quiz that matches students to a specialty.
The results shown below are from a medical specialty assessment from the University of Buffalo School of Medicine, which unfortunately appears to no longer be available. I took this quiz as a second-year medical student and these were my results: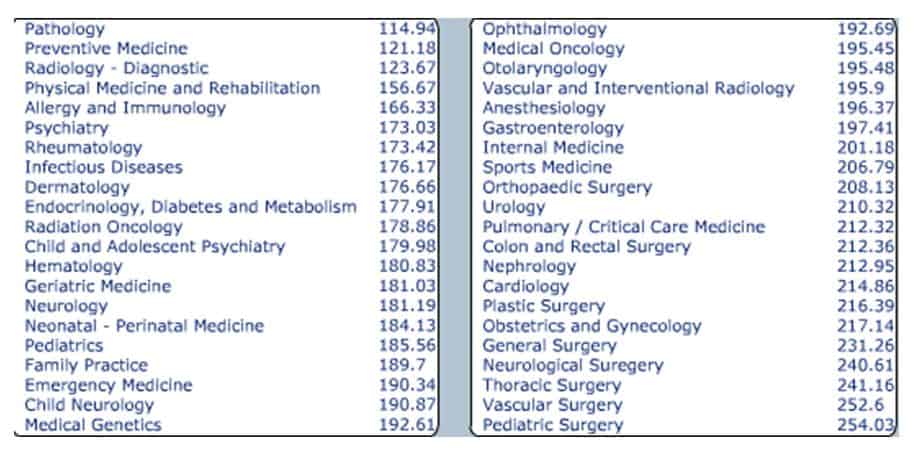 I ended up becoming a preventive medicine specialist (my #2 result on the quiz). Now – more than a decade since taking the quiz – preventive medicine seems to be a near-perfect match for me. 
A greatly needed resource for physicians in transition 
As medical students, we put a ton of thought into which medical specialty to pursue. We should do the same when considering a career that doesn't involve seeing patients in the traditional sense. But the resources with which to do this are limited.  
Even upon learning about the various unconventional options for doctors, it may not be immediately clear which ones your background and interests are best suited for. 
So, I felt that a tool such as this quiz was a needed resource. 
Hopefully it's also fun to take! 
How to get the most out of this quiz 
You're undoubtedly experienced at taking multiple choice tests. But, despite this, I do have a few tips for how you can get the most out of this quiz. 
Answer the questions truthfully and thoughtfully. Try to differentiate between your idyllic vision of a nonclinical career and you real-life situation and genuine personal attributes. You might love the idea of traveling for work, for example, but if a field-base position simply wouldn't allow you to manage your home and family responsibilities, don't indicate that you want to travel for work. 
Don't rush through it. While you shouldn't second-guess you initial answer choices or change your responses multiple times, you should be sure you fully understand the question that's being asked and read through all of the answer options. If you feel that none of the answers exactly match what you're thinking, choose the one that fits most closely or select the "Other or unsure" option. 
Respond all the questions. All of the questions need to have at least one answer choice selected in order for the tool to provide a result. Once you've answered all the questions, a big black "Continue" button will appear beneath the final question. If you don't see this, scroll back through the questions and make sure you've answered all of them. 
Enter your email address to see your result. Full disclosure: one of my goals in offering this quiz is to grow Look for Zebras' readership. As such, you'll be asked to enter your email address in order to see your quiz results. You'll be added to our email list, but are welcome to unsubscribe at any time. 
Give it a moment. Look for Zebras is a low-cost operation. The program used to develop the quiz needs a minute to "think" before it loads the questions and displays your result. Use this moment to take a deep breath and thank yourself for taking a positive step toward cultivating a satisfying career. 
Finally, remember that your result is just a single suggestion out of a plethora of a job options. It's a place for you to start as you explore the paths that your career could take you. Your result might not be the best job for you, or it might be one of many jobs that would be a good fit for you. 
What to do with your quiz results 
Perhaps your quiz result will be a suitable and tangible job for you, and then you subsequently apply for a job opening of that type, get hired, and have all your symptoms of burnout fade away. I hope this is the case! 
For many doctors, though, more research and soul-searching will be needed. I recommend you use your quiz result as a bit of direction in terms of what nonclinical career to start learning more about. You can read more about the job (there might be an article or two about it here on L4Z), check within your network for someone who has held a similar job, or peruse the websites of a few organizations within the industry or sector. 
Get even more information on nonclinical jobs for doctors 
The "Which nonclinical job is right for you?" quiz provides each respondent with a single job as a place to get started in learning about alternative career options. I encourage doctors wanting additional information on many other types of nonclinical jobs to check out my new book, 50 Nonclinical Careers for Physicians. I truly hope that these resources are helpful to you! 
[et_pb_section fb_built="1″ _builder_version="4.4.6″][et_pb_row _builder_version="4.4.6″][et_pb_column type="4_4″ _builder_version="4.4.6″][et_pb_button button_url="/quiz" button_text="Go to the Quiz" _builder_version="4.4.6″ hover_enabled="0″ button_alignment="center"][/et_pb_button][/et_pb_column][/et_pb_row][/et_pb_section]