The rewards for taking part in any type of medical survey can be quite rewarding in many different ways for medical personnel. While the extra cash may be the best attraction for lots of doctors, rewards in the form of knowledge are also there.
This is especially true if you take part in the medical device makers surveys to know what new devices are being researched. Those working in the pharmaceutical industry may get not just cash rewards but also some insight into what is researched by those companies.
Choose one of the top paid survey sites below by selecting the icons. We recommend joining MD for Lives and M3 now or continuing to learn more. It takes 2-5 mins to sign up.
Learn why paid medical surveys are the best side hustle for doctors and medical professionals:
Your healthcare insights can

influence medical products and services

in a way that is helpful to both you, the provider, and your patients. This experience is true ontological design in practice. 

Healthcare Surveys can be

thought-provoking

. They might make you think about certain medical topics that may not come up in your day-to-day work or that you could use some brushing upon.

Medical market research is a multi-billion dollar industry, and it can be lucrative (but are not always). Healthcare surveys allow you to

earn some extra income

from the comfort of your home, on your terms, and on your own time.          
To start immediately, we invite you to join the top two medical market research survey panels, MD For Lives (includes a limited time $20 sign-up bonus) and M3 Global Research.
Get compensated in cash, gift cards, or both if you choose by simply answering questions online. Many physicians make thousands of dollars each year by completing paid medical surveys and participating in these cash incentive programs.
Why do paid medical surveys for physicians exist?
Many companies want to get into the heads of physicians. Pharmaceutical companies and various types of healthcare organizations benefit from understanding how physicians make decisions, what they're thinking, and their opinions. Paid medical surveys for physicians are a result of this. Survey types include:
Market research

Needs assessments

Issue-driven and advocacy support research
Since medical surveys are used for several reasons by various companies, there are many routes by which physicians can be invited to take them. Numerous survey platforms exist, many that have their own panel of physicians to which they send survey invitations (usually by email). Most medical surveys have screening questions at the beginning that physicians need to answer in a certain way in order to qualify to take the remainder of the survey. 
Online surveys are not limited to new treatment and pharma research but also include questions in the medical device industry, medical startups, life science, and biotechnology companies. Common survey opportunities can include a health insurance survey, hospital survey, and follow-up survey as well as health plan surveys and comprehensive survey options.
The fact that these medical surveys exist makes it a great way for all types of medical professionals to earn rewards. While doing these surveys for money, you also get up to date in your field of study and line of specialization. Research companies worldwide are using medical experts to gain on-the-job knowledge to help with research and patient advocacy. Pharmaceutical companies will make use of those in the industry so they will have a good feel for what is best in medical treatments and direct patient care.
Many medical device makers need to know how those experts who are using the devices feel about the equipment they use. Most medical experts in the industry make use of these devices or medicine for their patients one time or another.
That is why it is good for them to take surveys with those people in every field of the healthcare industry. All this information they acquire will help to improve the devices or medicine they research to provide the best care for patients.
Without the experience of health experts, the research companies will not be able to develop the best healthcare treatments.
How much do online medical surveys pay?
Online Surveys for physicians can pay up to $300 per survey depending on your medical specialty, the surveying healthcare or pharmaceutical organization, the mode of the survey, whether it is a micro survey or an interview. 
Remuneration for medical surveys does vary a lot. It also depends on survey length, the company fielding the survey, difficulty in finding the targeted group of physician respondents, and other factors.
Physicians in specialties with a lot of drug development taking place (eg, oncology) will have the most opportunities for well-paid medical surveys.
A rough estimate is that you can expect to receive at least $1-2 per minute of your time. The best medical surveys surpass this. Any medical survey paying less than this is probably not worth your time unless you're a student or bored and want some extra beer money. Most medical surveys will take 5-10 minutes to complete and you will need online access. 
The complaints of doctors are that some of these survey sites do not really reward them for their time and knowledge. The biggest complaint is that there are many doctors already taking part in these surveys, and not all get the opportunity to earn money.
That is why it is good to look for those survey sites that are more suited for your line of work in the medical industry. It will also help a lot if you register for more than just one of the surveys, so you have a better chance.
Most of the larger survey companies also give you a registration bonus when you join them to take part in surveys. 
A lot of research is done in the field of medical treatments, so if that is your field of study, you should go for that. It will not take a lot of time out of a busy schedule where the average survey time is around 5 to 15 minutes.
Expert healthcare professionals should use these surveys to keep them aware of all types of research going on in the industry. All kinds of professionals, including nurses, pharmacists, and resident physicians, should register with a survey company or two.
Many of the largest survey companies have a large healthcare panel of different professionals they use for all of their research questions. It is a good idea, no matter what line you are working in, to join them and get some extra cash.
The National Health Interview Survey has kept an eye on the country's health for many years since the '50s. They do annual cross-section surveys on a range of studies to see the access people have to medical care in the country.
Every health expert that takes part in a survey will get paid after a few weeks of survey completion, so they do not wait long. That is the case with most of the larger survey companies who always pay those who took part on time.
Several of my favorite medical survey platforms offer alternatives to surveys, such as online focus groups and phone interviews. These formats tend to pay better than simple surveys. InCrowd-now and M3 Global Research, which I discuss below, are examples of platforms that offer these.
Requirements to participate in online survey sites
The only requirement is that a board-certified medical license is required to participate in paid medical surveys. You will be expected to enter your NPI number when you join medical market research survey panels. Other healthcare professionals may participate in the online surveys through M3 Global Research.
Are medical surveys worth it?
It is fair to assume that medical professionals can make more money per hour seeing patients than doing a survey. Most providers are already putting in all the clinical time that they can get in. The question you need to ask yourself is do you want to increase the scope of your clinical care, or would you prefer to supplement your income from the comfort of your home. 
Joining medical market research survey panels may be a viable alternative to increase the income for healthcare professionals, especially if they are already engaged in similar types of projects. It can also be a wonderful method for clinicians of all sorts to supplement their incomes.
Yes, we believe medical surveys are worth your time. A lot of medical survey sites will ask survey respondents to enter into a drawing for remuneration. If this is the case, just don't do it. 
We have carefully curated the best survey sites, so you don't have to. If you have limited time to learn about medical surveys, we recommend watching the video above and signing up for two sites to start with MD for Lives and M3 Global Research. 
Healthcare professionals have been hit particularly hard by the epidemic, with salaries declining across various sectors. A side hustle is never a bad idea, especially one that you can do in your slacks.
Do any survey sites actually pay?
Yes, MD for Lives, M3 Global Research, InCrowd now, and ZoomRx pay well. Healthcare professionals are always in demand, and the more market research you do, the better the opportunities and honoraria. 
What are the risks of taking paid online surveys?
The downside for respondents is the time involved in taking an online survey and potentially wasting time on an activity that provides very little compensation. 
By shortlisting the best survey opportunities, we made sure that your sunk cost is far less. It's smart to think of paid online surveys as a side gig that supplements your income but don't expect it to replace your day job. And don't register with any website that charges a fee to access paid online surveys. Trust your instincts; if something appears to be too good to be true, it likely is. 
A known risk or common complaint is that 'I always get screened out after answering a few questions.' 
It is helpful to know that some surveys have limits based on specialty, location, history, and so on. You may discover that you do not qualify by answering a few survey questions. If this happens a couple of times, you can choose to move on or continue trying. It is clear that the more surveys you take, the more likely you are to get more surveys. 
Many surveys are open to doctors, but they're also available for dentists, pharmacists, NPs, PAs, CRNAs, and other healthcare professionals. The top 5 sites listed are entirely free to join, and you may unsubscribe or opt-out at any time if it turns out that they aren't a good fit.
If you join the top survey companies, they require no registration fee, so there are no risks involved when you register with them. The only thing you need to invest in any survey that pays you is your time and knowledge in your field.
This is a great opportunity to give a bit of your time to help improve the healthcare industry while earning money for it. You can see that there are no risks involved for those who take part in these surveys with the top survey companies.
How Do You Make Money From Medical Surveys?
As a healthcare professional, you earn honoraria or remuneration. The payout is net 30 or 45 days depending on the survey sites you signed up for. After joining one or all of the medical market research survey panels, you will be alerted through text or email to participate in a survey specific to your specialty. The online surveys may be in the format of a micro-survey or an interview. It can also be mobile surveys or a medical membership survey.
What Do You Get From Taking Part in These Surveys?
There is a lot to be gained from taking part in medical surveys apart from cash rewards and gifts from the survey companies. This is especially true for health personnel who still have to pay off study loans or need some cash for other things.
During the Covid-19 pandemic, many healthcare personnel found that they lost a lot of their income with the lockdowns. Medical surveys also help make you aware of what is going on in medicine and other healthcare research.
You may also get reminded of other things in the industry you are not working within your line of study and expertise. These surveys may be an eye-opener to see the shortcomings and what are the fields that need the most attention.
This will also help you stay updated on different clinical practice guidelines in the various medical treatments and healthcare practices. The best way to stay tuned in is to participate in these medical research studies and surveys and get paid to do it.
A lot of money goes into healthcare research, including the pharmaceutical industry and other medicinal treatments for many different illnesses. So why not participate in it and get some great cash awards and other incentives from it yourself.
This is a legit way of earning some money on the side while spending only a few minutes of your time.
Well paid survey sites: My favorite sites to find paid surveys for physicians
I've signed up for a lot of medical survey platforms. Some of them have been excellent – they pay well and have interfaces that are easy to work with. Others pay pittance or only have surveys that I never seem to qualify for after completing the screening questions.
Here are my top 5 recommendations. Then continue reading for some honorable mentions
M3 Global Research
M3 has opportunities of several types. As a provider, I've completed traditional online medical surveys, asynchronous focus groups, and phone surveys with them. My experience has been good, and they've sent payment in a timely manner.
As of this year, they've started offering text alerts for their medical survey invites, so you can find out right away when you might qualify for a survey. Here is how much M3 surveys pay.
Here is how much M3 surveys pay. Here's the $500 I received for providing my insight to M3:

Learn what's included in a market research project and why medical market research is important for healthcare.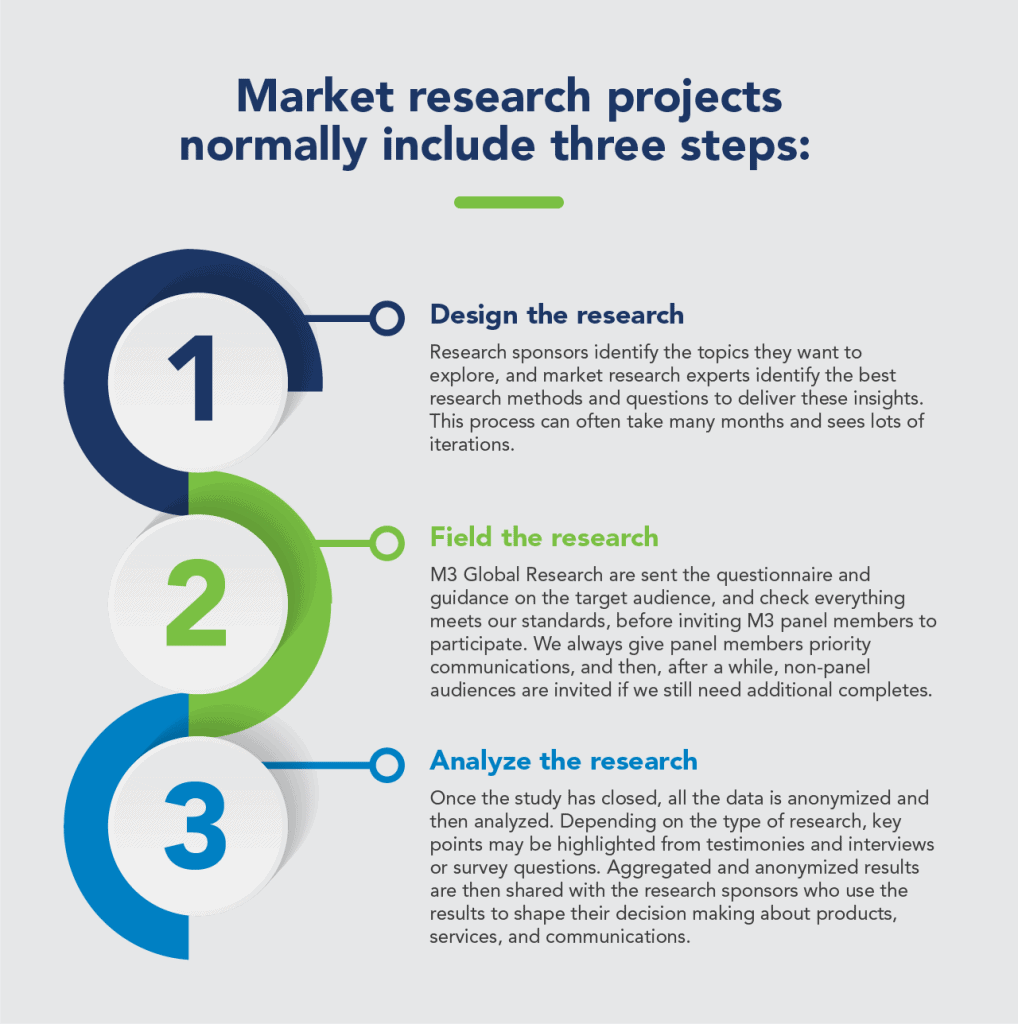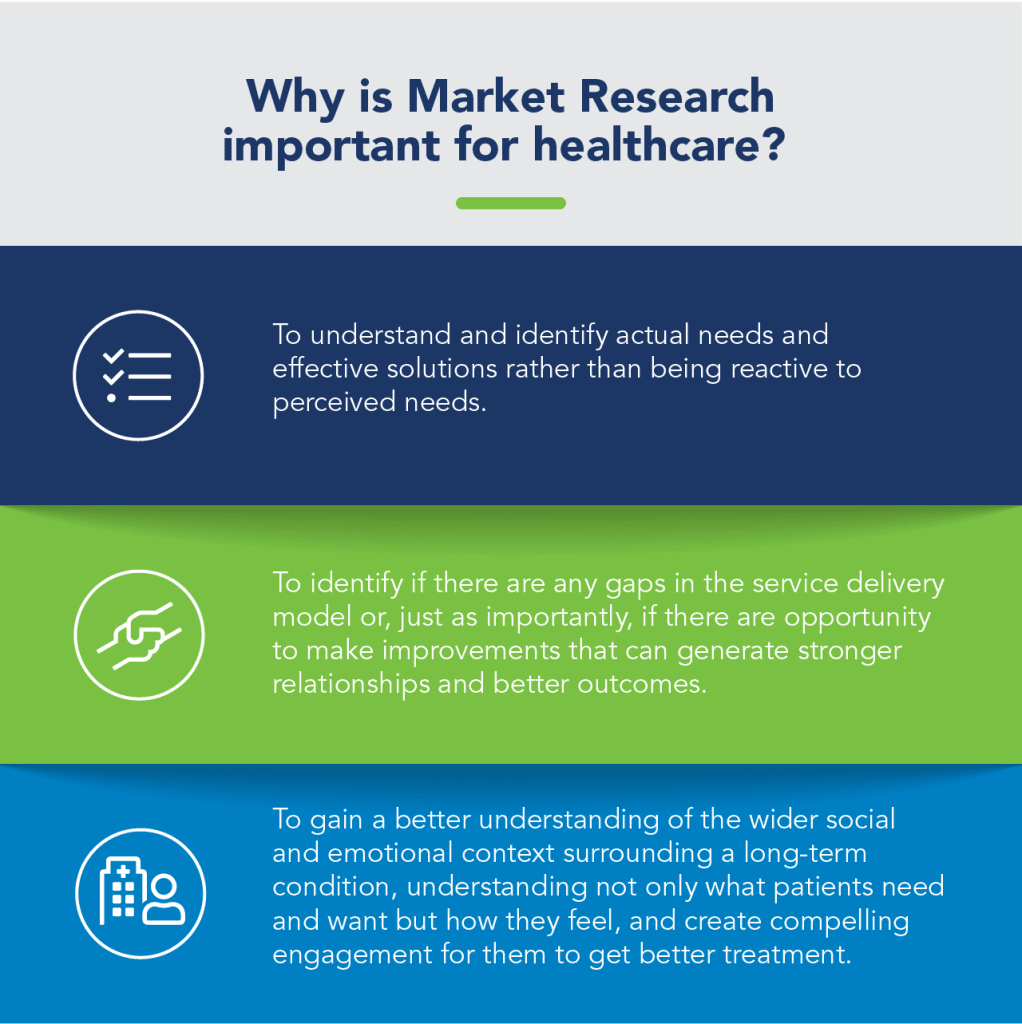 To learn more about prior M3 Global Research studies, visit our 'M3 in Media' page where you can find examples of recent medical market research studies.
InCrowd
InCrowd has an excellent interface that makes it easy to keep track of how much you've earned and what medical surveys you qualify for. While many of their surveys pay very little (around $8-$15), they only take about 2 minutes to complete – great for completing from a phone when you have just a few minutes to spare.
Inspired Opinions
Inspired Opinions Health by Schlesinger pays well for pharmaceutical company market research surveys. I haven't gotten many invitations from them, but when I have, they've been good.
Here's a $250 Visa gift card I received for a phone survey that was interesting and took less than an hour to complete: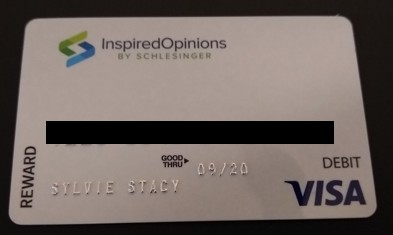 Honorable mentions
I've had less experience with IQVIA than the platforms above, but they are legitimate. They're a big company (resulting from the merger of Quintiles and IMS Health, Inc) and work with a lot of pharma companies.
Sermo is interesting because it's really an entire social media network for physicians in addition to a survey platform. I've had some fun on it, but unfortunately, I usually screen out of the survey invitations I receive.
A mention, but not an honorable one
This final one gets a mention only because it's somewhat entertaining. Brand Institute fields the most bizarre paid medical surveys for physicians that I've encountered. They help pharmaceutical companies select names for their investigational drugs.
The medical survey questions ask you to indicate how a drug brand name makes you feel, how you think a name should be pronounced, what medical terms a name reminds you of, and so on. The surveys are very long and usually only pay around $14. That said, they are easy to qualify for – even for residents.
This is an example of an invitation from Brand Institute to give my opinion about drug names for $14:

---
Compare honoraria for MD for Lives, M3 Global Research, InCrowd, ZoomRx 
One of the fastest growing medical market research survey panel in the US. Focused primarily in the healthcare industry. 
Great for physicians with a medical license. Ideal for Oncologists, Rheumatologists, Neurologists, Radiologists, Urologists, Pulmonologists, Immunologists, Surgeons, Psychiatrists, PCP, Pediatricians and many more specialties. 
On-time payouts 
Great user experience. Online surveys are available through your browser or MD for Lives Android and iOS app. 
Get prompt notification about honoraria once you complete surveys. 
Get compensated up to $300 per online survey.
Easy 2 mins one-page sign-up 
Get instant notifications about survey opportunities through text, email, or mobile apps. 
Largest medical market research survey panel globally.
Ideal for most healthcare professionals, physicians, Physician Assistant, Nurse Practitioner (NP), Nurse (BSN, LPN, RN, CNA), Pharmacist, Hospital Administrator, Psychology, Optometry, Pharmacy Staff, Managed Care, Dentistry, Practice Managers, Dental Hygienists. Medical Resident or Fellow, Genetic Counselor
M3 Global Research, previously known as MDlinx.com and M3 Inc.'s M3 Global Research, has been around for years as a part of M3, Inc., a publicly listed firm formed in 2000 with millions of medical professionals in its worldwide network. 
They, too, pay cash honoraria for completed questionnaires like the others. They issue checks that arrive four to six weeks after you complete surveys. 
Survey opportunities are available online, over the telephone, in person, and through internet focus groups that typically pay more.
Topics are broad from cutting edge technology in healthcare, new treatment protocols, drug side effects, biologics. You can expect a lot of surveys from pharmaceutical companies. 
Join M3 –  by simply answering personal details, professional details, contact details, identity, and address. 2-4 mins are all you need to sign up. 
Great for MicroSurveys. Over 70 percent of questionnaires are completed on a mobile device in a few minutes or less, making them convenient. Answer brief questions for cash. 
Ideal for most healthcare professionals including, Physicians, Active Physician Nurse Practitioner (NP), Nurse (BSN, LPN, RN, CNA), Physician Assistant, Hospital Administrator, Psychology, Optometry, Pharmacists and Staff, Managed Care, Dentistry, Practice Managers, Dental Hygienists, Medical Resident, or Fellow Veterinarian, Genetic Counselor.
Peers – Compare your responses to answers from your peers and learn from their replies. 
Invitations – Get new survey invitations through email or on your phone to maximize your earnings. 
Earnings – Manage and track your earnings and payment information. 
Stats – Access a dashboard with all your survey information and user details.
Multiple financial reward options are available, including honoraria and gift cards. er online survey.
Easy 2 mins one-page sign-up 
Get instant notifications about survey opportunities through text, email, or mobile apps. 
Both MD for Lives and ZoomRx provide you with the option to take surveys through their iOS or Android app. 
ZoomRx is a strategic healthcare consulting company focused on onboarding key opinion leaders and physicians. They have 100's of consultants in life science and healthcare pushing the boundaries of medical market research. 
They recently sponsored the Pharma Market Research Conference. 
Sign up is easy, taking less than 5 mins. 
You shouldn't wait to get paid. ZoomRx offers PayPal as a payment method to get paid instantly. If you don't have PayPal? They can simply mail the check to you. 
Easy 2 mins one-page sign-up 
Get instant notifications about survey opportunities through text, email, or mobile apps. 
Conclusion
Most medical market research survey panels are easy to sign up for, and they're all free, and MD For Lives is currently running a sign-up bonus. So it doesn't hurt to sign up for a bunch of them. 
Once you receive a couple of invitations from a particular platform, you'll get a feel for:
How arduous and strict the market research questions are
How well (and how promptly) the complete surveys pay you
How long an average online survey takes you to complete
How frequently you'll be invited to take an online survey
How interesting the online surveys are
How focus groups work
You can always ask to be removed from any panels that don't meet your standards. It's always great to have a side hustle that helps you stay in front of the healthcare changes vs. playing catch up, and it's never a bad thing to have some dry powder to invest in yourself.
Finally, I believe paid medical surveys are the best side hustle for providers and medical professionals. Join a few of the medical market research panels now and see if it makes sense to you. Over a thousand physicians have joined the medical market research survey sites through our referral partnership. 
Here are more resources to help you find amazing side hustles for doctors. Here is a list of more online side gigs that may interest you. 
 Note: Some of the survey site links above are affiliate links.
---