Published by Lookforzebras
This is Part 3 of a three-part series on CVs and resumes for physicians pursuing non-clinical and alternative jobs. You may want to start out by reading the intro to this set of articles. Part 1 focused on the differences between a CV and a resume and when to use each. Part 2 was about CVs and detailed how to use a Perpetual Vitae to keep track of all the details you wouldn't necessarily want to send to a potential employer with your initial application.
Job hunting or not, have a resume on hand
You may be fine with a generic resume for an entire job search, but only if your job search is within a narrow field. If you're applying for a job opening or to a particular company, you'll want to a version of your resume that is explicitly geared toward demonstrating that you're a great candidate for that specific role. But this doesn't mean you need to do a total resume overhaul every time you send it to someone.
Start off with making yourself a standard resume for nonclinical jobs, and tweak it whenever you have a definite purpose for which you'll be using it. You don't want to miss a job opportunity because you say you'll "get to it later" and don't have an adequate resume to use. Also, at some point you'll have someone say to you, "Shoot me your resume!" And won't it be nice to actually be able to just "shoot them your resume" while you are still fresh on their mind.
Craft your perfect resume, step by step
A resume tends to get somewhat longer the more work experience you have, though it shouldn't go beyond a couple pages. For physicians who haven't yet completed residency, I suggest sticking to just one page. Things means that you must use the space wisely! Main sections you'll probably want to have include, or are renditions of:
Experience
Education and postgraduate training
Professional development and membership
Licensure and certification
Publications
Awards and honors
A guide to writing a stellar resume for nonclinical jobs for physicians
We'll go through each of these in some detail. First though, let me say that writing a resume is all about finding a sweet spot. You must:
Provide enough information that the reader has a solid sense of your work history and accomplishments, but don't provide needless detail that would cause them to miss or glaze over the important parts.
Give details that show off your accomplishments, but leave off any detail that isn't significant.
Make it a stand-alone document (i.e. doesn't require explanation for it to make sense to the reader), but leave the reader wanting to hear more about your professional life.
1. Experience – make yourself shine
The section should include your jobs in reverse chronological order, including the employer name, dates of employment, your title, and bullet points listing your key accomplishments. You may be tempted to include bullet points that simply list your job responsibilities. Scrap responsibilities in favor of impressive accomplishments. I know that this is tough, but remember than not every accomplishment needs to be earth-shattering. For example, if you spent all your time seeing patients, instead of saying "Treated patients," how about:
Completed an average of 25 patient encounters per day for complex acute and chronic medical needs
This section is the meat and potatoes of your resume. Spend some time on it. Moving forward, when you accomplish something you're proud of, write it down on your Perpetual Vitae so that you'll pretty much have these bullets already written when you need to update your resume.
2. Education and postgraduate training – bland, but absolutely key
The right degrees are key to a lot of jobs. This section is a place to display your degrees. For some companies, where you got the degrees is a big deal, as well. Big-name consulting firms and other large companies are known to focus their recruiting effects at certain schools.
I also include my postgraduate training in this section. Some people prefer to have a separate section for this, which is fine, but to me they go hand in hand. Just make it clear in each entry what program you were in and the dates you were there.
3. Professional development and membership – your most impressive non-job stuff
Early on in our careers as healthcare professionals, a lot of our skills and knowledge comes from experiences that are something other than "regular" jobs. Later in our careers, we tend to be involved in an increasing number of influential professional activities that display our abilities. So wherever you are in your professional life, this section is a place to show off what you've accomplished outside of your day job or formal program.
Here are a few examples that would fit in this section:
Peer review
Committee membership
Mentoring
Program development
If you have a lot of experience in one of these areas, you might consider making a specific section for that.
4. Licensure and certification – prove your qualifications
Your medical licenses and board certification will be important for some potential employers. Use your judgement to determine what's appropriate here, based on the nature of the job your pursuing. If you've received any certification that wasn't part of a degree-granting program, this is a good spot for that. For example, if you're certified as an independent medical examiner or you're a Six Sigma black belt, you can include that here if it helps to demonstrate your qualifications for the job.
5. Publications – show how you've advanced your field
If you have more than a half dozen or so publications, I'm a proponent of making this section "Select Publications." Choose the ones that are most relevant to the job you're applying to, are most proud of, or would best display your skill set if you were asked about them in an interview. If your unabridged list of publications is important to a potential employer for some reason, they will know to ask you for a full list. And if you're hesitant to trim your list for fear that the employer really does want to see every single one of your publications, you may want to reconsider whether you should be submitting a CV instead of a resume.
The style that you use to reference your publications is less important than maintaining consistency between them. Don't use APA on one line and Vancouver on the next.
6. Awards and honors – brag a bit
Let your reader know that your hard work and proficiency have been recognized. This is a great spot to demonstrate that all of the experience listed prior to this section is not just average work you did just to earn a paycheck – it was meaningful, noteworthy, and significant within your field.
Remember, this resume is yours. You will need to make alterations to make an accurate, compelling reflection of your own professional qualifications. This outline is just to help you get off on the right foot.
The do-nots of high-quality resumes for healthcare professionals
Misconceptions about how to write a resume are rampant. Here are a few misconceptions I think are important in the healthcare field, especially for medical professionals seeking non-traditional jobs or with atypical paths within medicine.
Don't include an objective on your resume, except in special circumstances 
Don't include references or say "References available up request" 
Don't include anything you did during (or before) high school, and don't include anything you did during undergrad, except if it's amazing
Don't include anything that you couldn't eloquently discuss with an interviewer if you were asked about it (work bound by a non-disclosure agreement is an exception to this)
Don't include your date of birth, information about spouse and family, a picture, or an immature email address 
Don't include personal activities, unless you're certain the company culture appreciates it
Don't include anything that would prove to be embarrassing if someone googled it for more information
If you've been following for this whole three-part series, you're now well-versed in the Perpetual Vitae, the CV, and the resume. Congrats!
Now, with all your info on hand and organized, think about how much easier it will be to fill out this online job application that asks for an atrocious amount of detail using approximately 1000 tiny required boxes: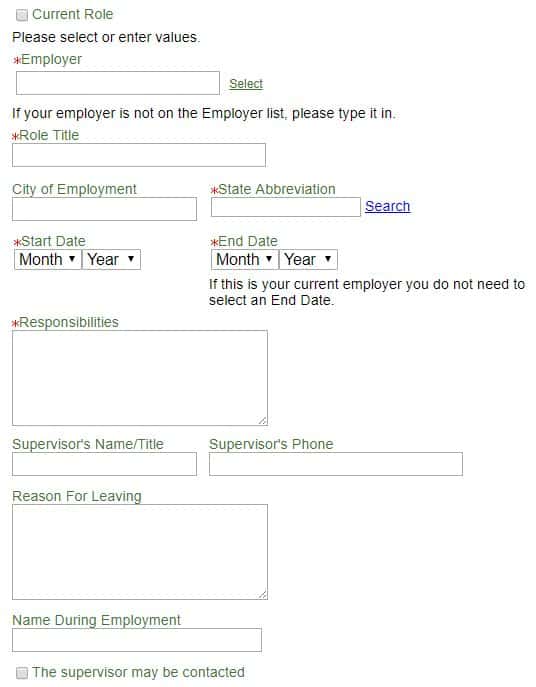 Would you like a similar article about writing cover letters? Or another topic related to job searching or applications? Comment below.
---
Check out the rest of the series on CVs and resumes:
Part 3 – Writing a winning resume for non-clinical jobs
Bonus  – Resume template