Published by Lookforzebras
A medical intern is a physician in training. He/She has completed medical school or a medical degree but does not have the license to practice medicine unsupervised. An intern enters the Graduate Medical Education (G.M.E.) program. Medical education in all countries is a combination of academic and clinical training. The length may vary from country to country and between foreign medical graduates and U.S. medical graduates. 
A medical student enters an internship in a hospital under the supervision of a senior doctor or an attending physician. The goal is to obtain training by rotation through the various departments of medicine in the hospital. The medical intern can become a family doctor (two to three years) or specialty (seven or more years of practice). 
What is rotation?
Rotation is going through different training phases in different medical departments is called rotation. Rotations include internal medicine, surgery, emergency medicine, pediatrics, and family medicine.
Medical internships in the U.S. begin on July 1st. Different types of Medical internships are as follows
Transitional internships can be thought of as the sampling of various disciplines. Trainees rotate through oncology, pulmonology, anesthesiology, dermatology, radiology, rheumatology, neurology, infectious diseases, obstetrics/gynecology, and ophthalmology. After completing this internship, the medical student can directly join a private practice or become a G.P. themselves. 
This internship focuses on imparting leadership and decision-making skills. They are either assigned hospital-based rotation shifts or rotated through different hospital departments. Transitional years are for specialties where a thorough understanding of the basic pathophysiology and procedures is required. The chief advantage of transitional interns is it allows greater flexibility and enables the intern to focus on his top areas of interest. This is considered the more accessible option among medical interns.
Prelim intern year is mainly intended for students seeking to work in internal medicine or surgery. During this period, interns are focused on obtaining multiple rotations in the above-mentioned fields. 
Medicine prelims spend their time on general medicine wards, medicine electives, and taking care of critically ill patients in Critical care units. Surgical interns are rotated through various surgical sub-categories, including general, vascular, plastic, pediatric, trauma, etc. Prelim interns train under licensed specialist doctors in those areas. The training period varies depending on the chosen field. Prelim internships are normally expected to have a higher level of difficulty compared to transitional internships.
 After completing their one year of internship, they train as residents. Usually, medical residencies range between four to six years. There are other types of internships to enter into a medical career – Pre-Med Internships ( For Undergraduate students interested in Medicine Career) and Nursing Internships (For Nurses).
Various Steps In The Medical Hierarchy For A Medical Intern
Medical interns go through various stages in their medical career, including residency, fellowship, before becoming an attending physician/surgeon.
In the first year, residents are referred to as interns. From the second year onwards, interns are referred to as resident doctors, resident physicians, or simply residents.
When interns spend their internship year and complete their residencies from the same hospital, the internship year is known as the categorical year. An intern also can complete their internship year and residencies from different hospitals.
As a resident, you provide direct care to patients. You generally work under the supervision of a physician or an attending physician.
Medical Internship is the best way to start your medical career. The salary or remuneration for a medical intern ranges from $53k to $62k per year. The goal of training during internships is the same- to learn hospital-based patient care. 
Difference between a Medical Intern and a Medical Resident
Medical students have already earned their Bachelor's degree in Medicine and started assisting doctors clinically in their 3rd and 4th years, respectively. Post their graduation, they are known as Medical interns. When a new doctor enters the first year of post-medical school training, he is a medical intern. Medical interns are at the bottom of the medical pyramid. All doctors start their careers as interns, then progress to residencies, fellowships to continue advanced training, and finally emerge as attending physicians/surgeons.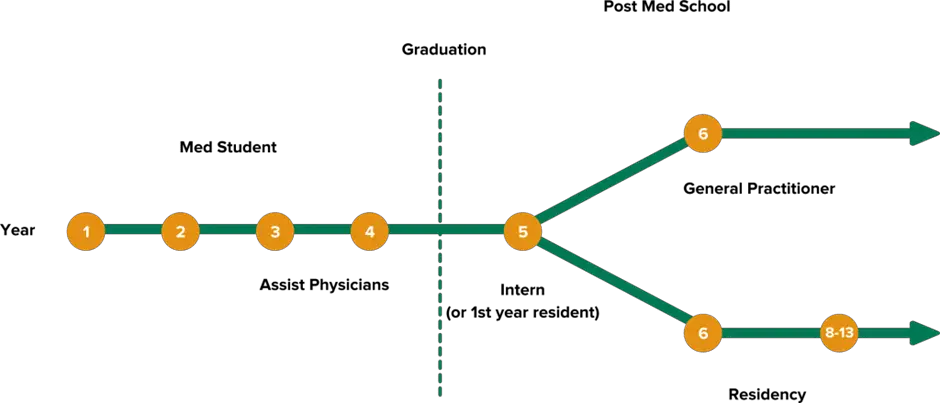 Doctors have to undergo several years of medical training as interns and surgical residents before practicing unsupervised. Medical interns can practice medicine only under close supervision by a senior doctor. Traditionally, Interns used to wear short white coats to signify their status and distinguish them from other surgical residents and attending physicians. Medical residents and attending physicians are characterized by their distinctive long white coats. This practice is more or less phased out.
As the above graph shows, after completing their year of internship, they can work independently as a General Practitioner or complete several years of residency depending on whether they are specializing. The number of years of surgical or medical residency varies based on specialization.
| Name of Speciality | Duration of Training |
| --- | --- |
| Anesthesiology | 3years +1 PG year for preliminary |
| Family Medicine | 3 years |
| Neurosurgery | 7 years |
| Obstetrics/Gynecology | 4 Years |
| Neurology | 3years +1 PG year for preliminary |
| Ophthalmology | 3years +1 PG year for preliminary |
| Orthopedic surgery | 5 Years + 1 Year for general surgery |
| Pathology | 4 Years |
| Pediatrics | 3 Years |
| Dermatology | 3years +1 PG year for preliminary |
| General Surgery | 5 Years |
| Emergency Medicine | 3-4 Years |
| Internal Medicine | 3 Years |
| Otolaryngology | 5 Years |
| Urology | 5 Years + 1 Year for general surgery |
| Radiation Oncology | 4 Years + 1 Years preliminary |
| Radiation Diagnostics | 4 Years + 1 Years preliminary |
| Physical medicine | 3-4 Years |
| Psychiatry | 4 Years |
| Plastic Surgery | 6 Years |
| Transitional/ preliminary | 1 Year |
During the residency phase also, medical residents work under the supervision of an Attending Physician or a senior doctor. They learn the latest approaches, treatment methods, and courses of treatment under the tutelage of veteran doctors. They also learn interpersonal skills in dealing with the Patients and their families during this phase. 
It could be said that the long period of training benefits them that they emerge as fully seasoned and professional experts in their respective specializations. Residency requires immense dedication and long hours of work. The shifts during this period will be long, averaging around 60-80 hours per week. Sometimes you may be on duty continuously for 24 hours as residencies require the commitment of a block of time and can also involve grueling work. The specialty for residency should be carefully chosen, considering your aptitude, interest, and both your short-term and long-term commitment.
A Medscape Intern survey shows that most interns opted for the different forms of surgery. In contrast, internal medicine, pediatrics, family medicine, and surgery-preliminary had less than 50% takers among surgical residents.
Fellowship
After you complete your Medical residency, the next step in your medical career is to become a Fellow if you wish to pursue advanced training. It is an optional choice that you make, and you can choose different specialties to focus your further studies. Significant specialties include the following:-
Internal Medicine
Gynecology
Orthopedics
Opthalmology, to name a few.
Attending Physician
A medical doctor who has completed medical training in all its academic and practical phases is known as an attending physician. Attending Physicians are certified by the Medical Board and can independently practice their specialty.  
In the U.S., Attending Physicians are required to complete all the steps of the USMLE (U.S. Medical Licensing Exam) or the 3rd step of the COMLEX (Comprehensive Osteopathic Medical Licencing Exam). They represent the highest level of the highest hierarchy in a clinic/hospital and can independently supervise Fellows, Residents, and Interns. The attending physician may also have a teaching position in a medical college affiliated with the hospital. 
The attending physician is ultimately responsible for all actions taken by his subordinates in inpatient care in a particular hospital. Such responsibility includes legally or otherwise. An attending physician is considered the Master in his specialty that accords him "expert" status. An attending physician is also referred to as a staff physician, supervising physician, rendering doctor, or attending.
So, there are many steps from a Medical Student, Resident, Fellow, and Attending Physician to complete the career path of an intern. 
Qualifications for a Medical Intern
A bachelor's degree in biology, pre-med, and enrolment in a medical college is necessary. Medical interns should also possess skill sets including Pharmacology, Human Biology, and Diseases, Essential of Clinical Medicine, Biochemistry, Medical processes, Critical thinking, problem-solving, analytical skills, Medical terms, and techniques. In addition, they should be compassionate and patient in dealing with the various patients they treat. The ability to do research and successful networking capability is an added advantage. Also, ethical virtue is a must in the medical profession. 
Duties of A Medical Intern
Attending Outpatient clinics
Recording Patient medical histories and entering them into Electronic Medical Records and charts.
Assist, and prep patients for putting on heart monitors for EKG and other heart readings
Examining Patients and triaging them before they see the consultant
Recommending a course of medical treatment
Taking patient Vitals including B.P., E.K.G., ultrasound, measuring heartbeat, and other physical examinations
Working in conjunction with labs that perform tests like blood and urine analysis
Helping with clinical research
 Preparing patients for exams, evaluating patients attending outpatient clinics and patients in emergency.
Interacting with patient families and updating them regarding the patient's condition
Write daily or weekly reports for supervisors.
Use the correct C.P.T. and HCPCS codes for the medical services rendered.
Surgical interns also perform minor procedures under the close supervision of the attending surgeon.
Perform minor surgical procedures
Performing Biopsies
Remuneration of a Medical Intern
There is no state-wide standard pay for all medical interns. The pay that medical interns receive depends on:
The facility or hospital where he works
Geographic location
The specialty for which he is training.
Most of the data in the forthcoming sections have been taken from Medscape surveys. Medscape is a leading global online destination for physicians and healthcare professionals. They conduct surveys every year about all things medical. They provide research and surveys about various issues affecting physicians and doctors, including; job satisfaction, the trend in salaries and remuneration, work-life balance, etc. 
The average remuneration of a Medical intern may range between $55K to $64k per year. As per the statistical reports of Medscape surveys, the salary of a medical intern turned resident in 2015 was $55k.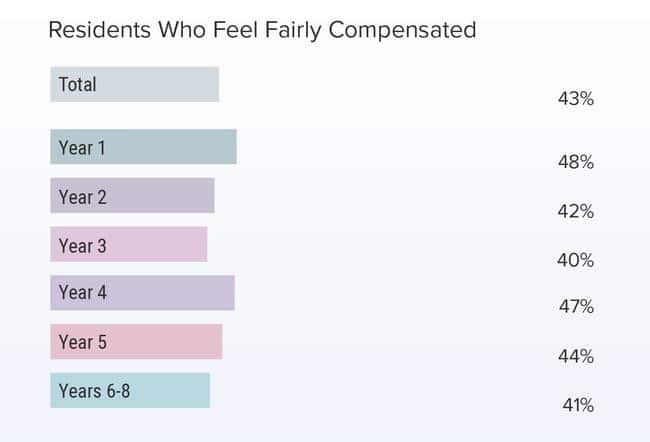 Nearly 45% of the medical interns feel their compensation is fair. But 57% of the residents think their pay package does not compensate them for the following:-
The number of hours worked.
The rise in the cost of living and inflation trends in the economy
P.A.s and Nurses get similar or higher packages
Compensation is not appropriate considering the skill level required
Benefits offered by most hospitals are inadequate
Most medical interns feel they should have a pay package at least 26%-50% more to compensate them adequately.
State-wise Distribution of Medical Interns Salaries
Vermont, New York, Maine, Massachusetts, and Alaska pay the highest Medical Interns' salaries, while Kansas, Oklahoma, and Arkansas pay the lowest salaries. Among cities, New York and Boston pay the highest salaries, whereas Oklahoma pays the lowest Medical intern salary.
Distribution of Medical Interns Employment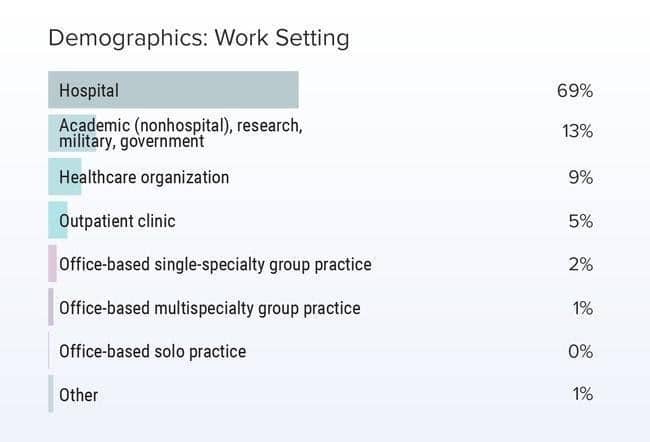 Hospitals and Academic medical research institutes account for the bulk of interns' employment. A tiny proportion of medical interns are employed in private care practice, whether group practices or solo practice. This shows that most interns prefer to complete their internship year in hospitals. 
Distribution age-wise and according to Gender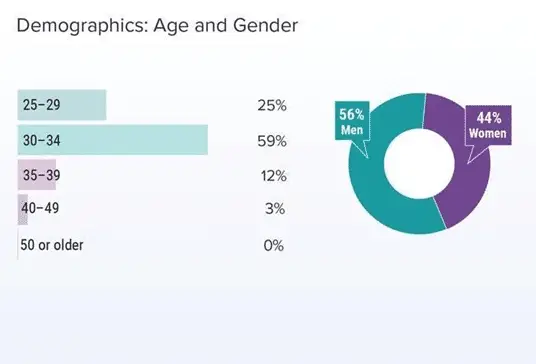 The age-wise distribution shows that most medical interns fall in age groups ranging between 25 and 34 years. There is a tiny proportion of interns above 40 years old. The gender-wise allocation shows a predominance of male interns compared to female interns. 
Indebtedness of Medical Interns
The fees charged by some medical schools are given below:
| University/Med-College | Total Fees in USD (estimated average) |
| --- | --- |
| University of California, San Diego | 1,65,500 |
| University of Pennsylvania | 2,40,000 |
| Duke University | 2,48,000 |
| Columbia University | 73,800 |
| University of California, San Francisco | 1,87,100 |
| Yale University | 2,52,000 |
| University of California, Los Angeles | 1,05,300 |
| Johns Hopkins University | 2,14,000 |
| Harvard University | 3,25,000 |
| Stanford University | 4,82,000 |
The trend of more than 50% of medical students in debt up to US$ 200,000 has remained constant from 2020 to 2021. The same trend is also witnessed, with about 25% of the students in debt to the tune of US$ 300,000. The Association of American Medical Colleges has corroborated this trend analysis. THE AAMA has also estimated that around 73% of the students graduate with an average debt of US$ 200,000.
Work-Life Balance for a Medical Intern
Roughly less than 22% of the Medical Interns reported spending an average of 70 hours per week. As per the Medscape survey, about 50% of the residents perform up to 10 hours doing scut work. The majority of the interns work on an average of five nights per month on their shifts. 
About 75% of the interns feel that the job-based training received during the internships is sufficient to meet the demands of their job. About 25% of the medical interns anticipate setting up their private practice after training.
Key Takeaways
The medical internship is one of the most critical phases in your journey to becoming a full-fledged doctor. It is an arduous journey, but you also benefit from several things. You obtain your practical training from experts and develop several essential skills. These skills include
not only medical skills
networking with senior doctors, attending physicians
knowledge of working in various disciplines in a hospital which shapes you into a good doctor
 skills like compassion, patience, and ethics 
All of this helps you evolve into a better doctor and a better human being.