Published by Lookforzebras
Start a side gig or complement your telemedicine practice with these remote clinical opportunities!
Telemedicine jobs for doctors are a great way to supplement a salary from a full-time job. They are also an attractive option for physicians looking to work remotely. This article is written for doctors who find themselves in one of two situations:
You enjoy telemedicine work, but your case volume isn't as high as you'd like.
You love the idea of doing clinical work remotely, but don't really like doing telemed visits.
There are plenty of remote clinical work options that are great alternatives to telemedicine. These can be used to supplement the income you already earn from telemed, potentially turning your part-time remote work into full-time work. Alternatively, these options can be done as side gigs on their own.
A quick overview of some relevant terminology
Telemedicine is the treatment of medical conditions using any sort of telecommunications technology, rather than the provider seeing the patient in person.
Telehealth, on the other hand, is a universal term referring to the provision of any type of health care facilitated by digital communications technologies. It includes telemedicine, but also any other services involving the transfer and exchange of health information between physical sites. Health service disciplines other than medicine are included in telehealth, such as home health, counseling, and dentistry.
Another term – virtual care – has been used to encompass all the ways that clinicians interact with patients remotely. It's a useful term in that it doesn't imply that a one-to-one patient visit takes place via videoconferencing. Virtual care might be provided using audio, text messaging, or other means. Or, more broadly, it can be any work that impacts someone's health without seeing them face-to-face.
What are the alternatives to telemedicine jobs for doctors?
For this article, I'm considering work options in telehealth and virtual care that aren't comprised of traditional telemedicine encounters to be alternatives to telemedicine. These are attractive to many doctors and practitioners who are already engaged or interested in telemedicine.
The ideas described below:
Tend to be more flexible than telemedicine work
Can be used to fill in time between telemedicine encounters
May not require a medical license
Will increase your income as a telemedicine provider.
Most work covered in the options below loosely falls under the umbrella of either telehealth or virtual care.
If you're looking to supplement a telemedicine practice or want a way to work from home without doing telemed visits, here are six options to consider.
eConsults with provider-to-provider consulting services
An interesting and valuable service business model emerged several years ago that aims to bring the expertise of medical specialists to primary care physicians and generalists without having to make a traditional patient referral. This is accomplished with eConsults.
Here are a couple of examples of businesses that orchestrate eConsults:
AristaMD has a large panel of specialist physicians with training and expertise in different specialties. A user (typically the practitioner seeking the consultation) submits information about a patient and a clinical question to Arista's platform. The case is then assigned to a consulting physician who reviews the information and offers their medical guidance.
RubiconMD takes a similar approach. They partner with organizations to integrate with the workflow that the practice already has in place.
Physicians who become panelists for these or other physician-to-physician eConsult platforms can play an important role in caring for patients – but do so from home without a busy clinic schedule.
This alternative to telemedicine is a great option for physicians who enjoy clinical decision-making and who like thinking through diagnostic and treatment dilemmas. eConsults let you use these same thought processes to help care for patients without actually seeing them in a clinical setting.
Remote patient monitoring
Remote patient monitoring services use information technologies to gather and transmit patient data outside of a conventional healthcare setting. In many cases, the data is reviewed by a clinician who then makes recommendations (or gives orders) for changes to the care that's being delivered to the patient.
This type of work lends itself especially well to specialists in neurology, cardiology, and critical care.
Intraoperative neuromonitoring (also sometimes called neurophysiological monitoring, or IONM), has been shown to be reliable and has a great potential to reduce certain costs of care and improve access to care, especially in rural areas.
Similarly, studies have demonstrated both clinical and economic benefits of virtual ICUs (also known as tele-ICUs and eICUs). The opportunities for this type of work are growing. According to a survey of healthcare executives, 88% of hospitals plan to invest in remote patient monitoring.
At this time, many centers using remote monitoring and virtual ICUs are utilizing their own specialists and equipment that is kept on-site. This is likely to shift to physicians' home offices as time progresses and as this type of service becomes more common and less expensive.
SOC Telemed is an example of a remote patient monitoring company that isn't directly owned by or affiliated with a hospital. I expect there to be more options like SOC Telemed for physicians to get involved in remote patient monitoring in the future.
Answering questions about health and medical conditions
Physicians can earn income by answering general medical and health questions on online platforms. This isn't telehealth, per se, as the service is provided to the general public rather than to patients. Nonetheless, it can be a flexible and mentally stimulating way to supplement your telemedicine practice.
JustAnswer is probably the highest-paying platform of this type with the lowest barriers to entry for physicians and other clinicians. After signing up and making a profile, you'll be able to scan through a seemingly never-ending list of user questions about all sorts of health and medical questions. When you answer a question, you get paid. Payment varies but is generally around $15 per question.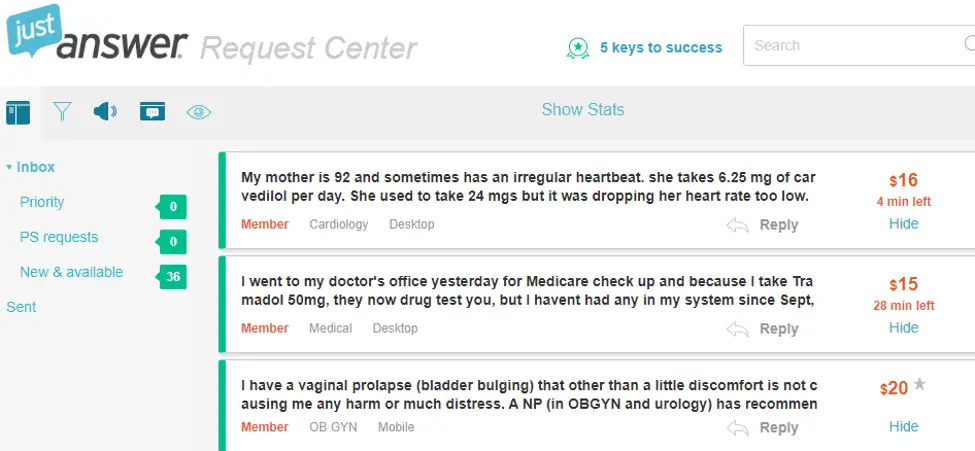 Another option that pays for general medical information from clinicians is the Ask a Doctor service on HealthcareMagic. Or, there's Help Owl, where you'll be awarded points that can be used toward Amazon gift cards. I haven't personally used either of these platforms, so I can't vouch for them.
Remote chronic disease management
Remote chronic disease management is like the outpatient, lower-acuity sister of neuromonitoring and tele-ICUs. There are variations on what this type of service is called, including patient-centered connected care or integrated remote chronic care.
Growth in this field has been rapid, with companies using a variety of approaches, technologies, and processes to offer virtual extensions of in-person primary care practice.
Livongo, Lark, and Omada are chronic disease management platforms that use smart connected devices, AI learning, and expert coaching to manage diabetes, hypertension, weight, and chronic mental disease.
Some platforms combine aspects of population health or employee health or focus on certain medical conditions.
Vivify Health focuses on preventing readmissions through working with patients during care transitions and after episodes of acute care.
Orb Health offers a broad set of services that goes beyond chronic disease management to schedule appointments, synchronize lab results, and coordinate care between specialists.
There are very few consulting or part-time jobs in remote chronic disease management that require a medical degree. Most clinician opportunities are geared toward nurses, therapists, and coaches. For some MDs (such as those without residency training), though, the work may be a great fit despite the relatively low compensation.
Taking on-call shifts
Most medical practices use their own employed physicians to be on-call outside of normal business hours. From time to time, however, they seek help from external physicians to ease the call burden on their providers or to have coverage while the usual practitioners are on PTO or extended leave.
When the requirements for being on-call are limited to answering questions and giving verbal orders by phone (as opposed to having to go to the hospital), this can make for a great side gig.
You'll have the highest likelihood of finding this type of opportunity by tapping into your professional network. Practices that you've worked with before or that you have some sort of existing relationship with are most likely to hire you to help with their call schedule.
If you don't mind the strict schedule and uncertain call volume, consider this to supplement your telemedicine practice.
Another option: working as a collaborating physician
A similar opportunity is a part-time work as a collaborating physician with an NP or PA. There is almost always some aspect of in-person work required, but in some situations, it can be done primarily remotely, such as supervising practitioners who do home-based assessments through a home visit program, like the program run by Optum.
Chart reviews
A final alternative to telemedicine is doing part-time chart reviews.
This work is typically offered by health insurance and utilization management companies. As a consulting physician, you review requests for prior authorization or concurrent authorization of healthcare services. This falls under the category of flexible, remote nonclinical work; however, it's not telehealth or telemedicine, as you're not actually making management decisions for patients.
Several other types of chart review work, exist as well. Take a look at our previous article that covers all the different possibilities.
Final thoughts
Ramping up your own telemedicine practice can take time, leaving you with a temporary need for additional sources of income. Moreover, if you're working with a telemedicine company that simply doesn't have the case volume to provide you with the equivalent of full-time work, that temporary need can become permanent.
Don't dismiss telehealth and remote side gigs if you're not interested in doing traditional telemedicine visits. Moreover, don't shy away from telemedicine if you're concerned the volume won't be enough for the income you want or need. Instead, keep an open mind and explore all the options that can be used as alternatives or supplements to telemed work.
Take steps to protect your license, assets, and reputation
Be sure you thoroughly evaluate the companies you'll be working for and fully understand the type of service you'll be providing for them. Many states have their own definitions of telehealth and telemedicine. It's important that you're aware of whether or not you'll be engaging in the practice of medicine. This typically determines whether you need an active license and what type of insurance you need to cover the work you're doing.
Additionally, use caution when signing a contract with any company offering telehealth, telemedicine, or other remote health services.