Published by Lookforzebras
My book, 50 Nonclinical Careers for Physicians, was published in late May. Since then, I've been engaging in a virtual book tour to get the word out about it and the many jobs doctors can take outside of traditional clinical settings. I'd like you to invite you to join me at a stop (or two, or more!) on my book tour.
The book tour is comprised of posts, articles, interviews, reviews, and podcasts on an assortment of platforms. They're not all simple introductions to the book! They cover a variety of topics directly and tangentially related to the topic of nonclinical jobs doctors can take.
Even if you've already picked up a copy of the book (thank you!) or are already an avid reader of my blog (again, thank you!), there are a few reasons to get involved with the book tour. You can: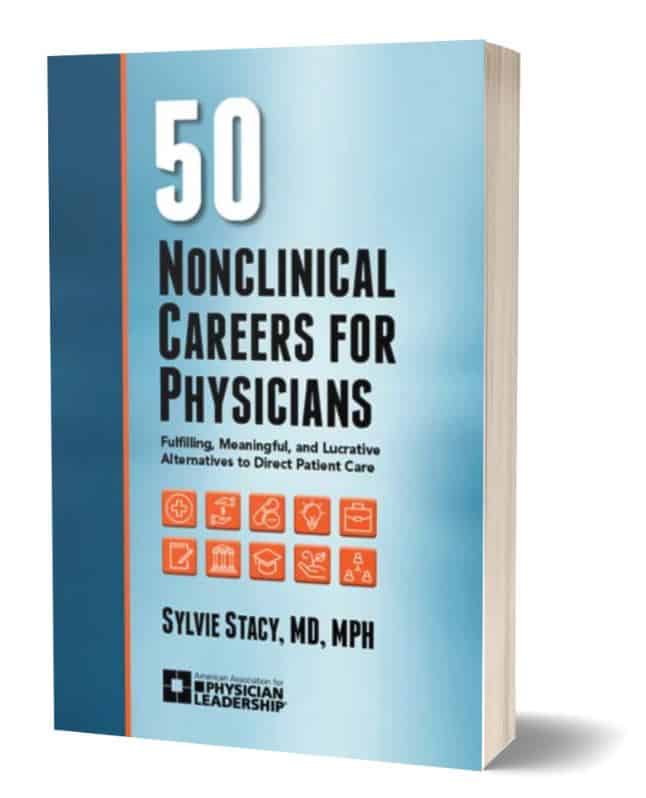 Learn about a new physician blog or publication for physicians that you can add to your regular reading repertoire.
Leave a comment to let others know about your own nonclinical career or how the book has been helpful for you.
Get inspiration on how to market your own upcoming book, online course, coaching program, or other service or publication.
I look forward to "seeing" you on the tour!
Here's where I've stopped on my virtual book tour – so far
The list below provides links to all the stops I've taken on my virtual book tour to date and a bit about each one to help you decide if you want to pop in to read or listen to the whole thing.
Guest blog posts
I had the opportunity for write for a some of the most popular physician blogs on the web.
The White Coat Investor
Jim Dahle of The White Coat Investor kindly endorsed my book prior to publication. In his blurb, he states:
No matter your career goals, knowing your options will allow you to be intentional in your pursuit of self-fulfillment and service to others. More options means less burnout and better patient care, and that's a good thing for everybody involved.
It felt fitting to me to write more about this idea of being intentional in my guest post Before You Decide to Leave Medicine, Ask Yourself These 5 Questions.
KevinMD
KevinMD posted an excerpt from the book arguing that Physicians with nonclinical careers can do as much good for humanity as those with purely clinical careers.
Physician on Fire
Working in a nonclinical role doesn't mean taking a pay cut. Physician on Fire founder Leif Dahleen, MD published my guest post How a Career Transition Can Help You Reach Financial Independence.
The Physician Philosopher
A third and final stop within the White Coat Investor Network was on Dr. Jimmy Turner's blog The Physician Philosopher. My guest post 10 Reasons to Consider a Nonclinical Job to Defeat Burnout explains that, for some physicians, a transition to a nonclinical career can be the answer to mental exhaustion and professional disengagement.
Life of a Med Student
My book isn't just for practicing physicians. Medical students should be aware of all the options for their careers as well. Charlie of the Life of a Med Student blog posted 10 Physicians explain why they LOVE their Non-Clinical Jobs! comprised of excerpts from the book's real-life physician profiles.
Married to Doctors
This final guest blog post is actually authored by my husband. Lara of the blog Married to Doctors published his perspective on nonclinical careers in My wife is a doctor with a nonclinical job, Here's why it's awesome. I hope that this article has led a reader or two to encourage their doctor-spouses to make a change in an unfulfilling career.
Online magazines, journals, and news outlets
My book tour stopped at publications geared toward physicians and other healthcare professionals. I am thrilled that all of these outlets were willing to publish articles on the topic of unconventional jobs doctors have during their careers.
Physician Leadership Journal
The Physician Leadership Journal – a publication of the American Association of Physician Leadership – published my article on the role of physicians outside of healthcare delivery settings. (Note: a subscription is required to access to the full-text article.)
Doximity
I wrote 5 Tips for Physicians Interested in Nonclinical Careers on Doximity's Op-Med page. The tips include that you should stop second-guessing yourself and think broadly about how you define "experience."
Student Doctor Network
As mentioned above, my book was written for medical students just as much as it was written for attending physicians. SDN published How to explore nonclinical career options as a medical student or resident.
Medscape
I published an article covering six job options for physicians in the pharmaceutical industry in Medscape's Business of Medicine section. Unfortunately, the editor changed my originally proposed title to 6 Nonclinical Careers for Physicians Looking to Switch, suggesting that the article is a broad overview of nonclinical options, rather than focused on pharma jobs. Nonetheless, if you can get passed the title faux pas, it does contain some useful info for docs interested in a career in pharma. (Note: You may need to log in to Medscape to view the full article.)
HCPLive
The medical news and information portal HCPLive published 5 Benefits to Having a Nonclinical Job as a Doctor.
The Health Care Blog
The Health Care Blog is an online forum covering the business of healthcare and the new ideas that are changing the healthcare industry. My article Medical Education Must Adapt to Support the Broadening Role of Physicians is about more than nonclinical careers. Physicians in all specialties and in many types of roles do far more in their work than simply treat disease.
Medpage Today
How a Nonclinical Career Surprised Me was published by Medpage Today. Judging by the comment section, it was not well received. Apparently some readers think that my medical school wasted an admission on me.
Physicians Practice
Physicians Practice published a short article on why physicians are needed for jobs outside of patient care.
Book Reviews
Several doctors have kindly taken the time to write review posts about 50 Nonclinical Careers for Physicians.
Sermo
Dr. Neil Baum, a urologist, wrote Roads Less Traveled: Looking Into Nonclinical Careers on the popular physician network Sermo.  (Note: You may need to log in to Medscape to view the full article.)
Crispy Doc
Crispy Doc published A Candid Review Of "50 Nonclinical Careers For Physicians" on his site.
Financial Success MD
Dr. Cory Fawcett posted Fifty Nonclinical Careers for Physicians, a Review on his site, Financial Success MD.
Interviews
A few stops on the virtual book tour took the form of interviews.
Non Clinical Doctors
Heidi Moawad, MD of Non Clinical Doctors included me in her ongoing series Real Stories of Physician Transitions into Nonclinical Work.
Doctor's Crossing
Dr. Heather Fork published 50 Nonclinical Careers – Meet the Author! on Doctor's Crossing.
Authority Magazine
I participated in an Authority Magazine series on how women are finding balance in their science careers amidst the pandemic. My interview is titled How Sylvie Stacy of Look for Zebras tackles the extreme work life balance of being a woman in STEM during COVID-19.
Podcast appearances
Finally, a handful of podcast appearances on some of the most widely downloaded physician-hosted podcasts rounded out the book tour.
The Physician NonClinical Careers Podcast
I had the opportunity to talk with John Jurica, MD on the PNC Podcast. You can hear me on Episode 147, 50 Outstanding Ways to Dump an Awful Career for a Bright One. I always enjoy John's catchy titles.
Docs Outside the Box
Dr. Nii Darko invited me to join him on the Docs Outside the Box podcast. Tune in to Episode 185 – Are there other jobs doctors can do with a medical degree?
Doctor Me First
I loved talking with Errin Weisman, DO of Doctor Me First when we recorded Episode 193 – Non-Clinical Careers with Dr. Sylvie Stacy.
Physician's Guide to Doctoring
I joined Bradley Block, MD on Physician's Guide to Doctoring for the episode Look for Zebras with Sylvie Stacy, MD, MPH.
Sound Practice
Healthcare attorney, author, and speaker Michael Sacopulos, JD recorded an episode of Sound Practice with me. Pivoting, Tapping Out or Trading Up: Physicians Transitioning to Nonclinical Careers
A giant thank you to all the bloggers and podcasts hosts who invited me onto their platforms to help let others know about my book!
Be a part of my book tour and help spread the word about unconventional jobs doctors can have!
One of the great things about a book tour being virtual instead of in-person is that there aren't any traveling and scheduling logistics involved. As a result, the dates and timing of the tour can be flexible and fluid.
I'd love for my book tour to continue, and would appreciate your assistance in making that happen! Here's how you can play a part:
If you're a blogger… Consider mentioning my book, writing a review post, or getting in touch with me about doing a guest post.
If you're active on social media… Link to my book landing page or to any of the book tour stops listed above.
If you've read the book… Leave a review on Amazon. Every review counts, and potential readers and buyers take these seriously.
I welcome any other ideas of how we can work together to spread the word about alternative jobs doctors can take throughout their medical careers.