Published by Lookforzebras
Military doctors are an essential part of the military and deliver necessary and often life-saving medical care to the members of the army, navy, and air force and their families. Military physicians do, however, possess the discipline taught to military members and make life-changing decisions in mere seconds.
But how much do military doctors make? And is a career in military health worth it in terms of benefits and salary? Let's explore the salary, requirements, and benefits of becoming a military doctor.
The Average Salary of a Military Doctor
According to recent statistics from the US Bureau of Labor and Salary.Com, military doctors in the United States earn roughly $207,520 per annum. This is based on data as of May of 2022.
The typical range of salary for a doctor or specialist employed in the military is between $179,000 to $232,000 per annum.
Salary is dependent on a few factors and include:
Your level of medical education
Certification or doctorate degree
Any additional skills you may have, i.e., specialty or fellowship training
The total number of years you have spent in the medical profession
Military rank
Where you are based (deployed, shore-based in a military hospital, etc.)
Military doctors are also paid according to a pay grade, with 0 to 1 being the lowest of these grades and would be where the most junior doctors are placed. There are also special pay incentives that need to be taken into account. These are:
Hazard or danger pay
Deployment pay
The branch of the military the doctor serves in
An allowance for housing
Basic allowance or monthly stipend
The Role of a Military Doctor
Military doctors have the same role as their civilian counterparts. Their primary role is to provide preventative, diagnostic, and life-saving treatments in a military hospital, clinic, or field hospital when deployed and to provide medical treatment and surgeries for front-line deployed soldiers.
The air force, navy, and army have their own doctors and are made up of civilian or military-trained doctors and specialists. They are employed either in active duty or as a part of a reserve force.
Military health care is for those currently serving in the navy, army, or air force, as well as their dependents and retirees.
The military offers the following health services:
Diagnosing of illnesses
Treatment of illnesses and injuries
Surgery
Check-ups
Dental
Optometry
Pathology
Oncology
Psychiatry
Urology
Gynecology or Obstetrics
Pediatric care
It is important to note that these are not the only services provided, but rather a good overview of the wide range of services offered by the military in taking care of their members and their families. The military has excellent health care services available.
How to Become a Military Doctor or Specialist
There are two ways in which one can become a military doctor. One is to join the military after you have completed your medical studies, training, and doctorate, and the other is to first join the military and gain a doctorate while in service.
Let's go through the steps for both options:
Option one: Civilian doctor to military doctor
Joining the military once receiving a doctorate is a great option for those who want to give back to their country and provide medical and health services to the military members who give their lives to their country and its people.
Here are the requirements for a doctor to join the military:
Must be a US citizen
Must be in the range of 21 and 64 years old
Require a doctorate in medicine
A civilian physician who wishes to join the military medical profession must complete an officer's course. This course and training prepares a civilian for military life, teaches them the military regulations, and ensures that all physical fitness standards are met.
Once the officer's course has been completed, the doctor will be granted their rank and placement. This rank will not be lower than that of a major or captain, and the military will pay the salary according to that rank's pay grade. Signing an employment contract with the military also includes a $20,000 signing bonus.
Option two: Full military training
If you are truly passionate about helping people and would like to become a doctor in the military, there are a few steps that need to be taken, as well as a few criteria that must be met. They are:
Must be a US citizen
Fit the age requirement of 21 to 42 years old at the time of service
Must have completed the relevant officers' training course
Have at least two years of duty in active service
Each branch of the military has its own officer's training course. These are Navy Officer Development School course, the Air Force Officers Training School, and the Army's Officer Candidate School courses.
There are a few benefits to studying medicine through the military.
Pay/Salary
The military will completely finance medical school and have several scholarships on offer. Medical students will be paid a supplemental income or monthly stipend during their residency, and there is a great signing bonus to look forward to once qualified.
The average monthly stipend is currently $2,400. Other additional forms of income that military doctors can look forward to are a housing subsidy, health care for themselves and their families (including dental, optometry, and more), and other benefits like life insurance and disability coverage.
Permanent Employment
The military is a great place to work. It is one of the best in terms of "job safety." A medical doctor who has obtained their doctorate through the military signs a contract that guarantees a certain number of years of service in exchange for the financing of medical school and any post-doctoral studies or specialties.
Technology
Military-trained doctors are afforded the same opportunities as civilian doctors and often train at civilian facilities and medical schools. This allows them only the best in technology and skills that they will use to treat military personnel and their families. Just a few of the incredible technological advancements the military has been involved in are:
The development of 3-D printed implants for surgical purposes
Trials for breast cancer and HIV vaccines
The development of a portable x-ray unit that is hand-held and battery operated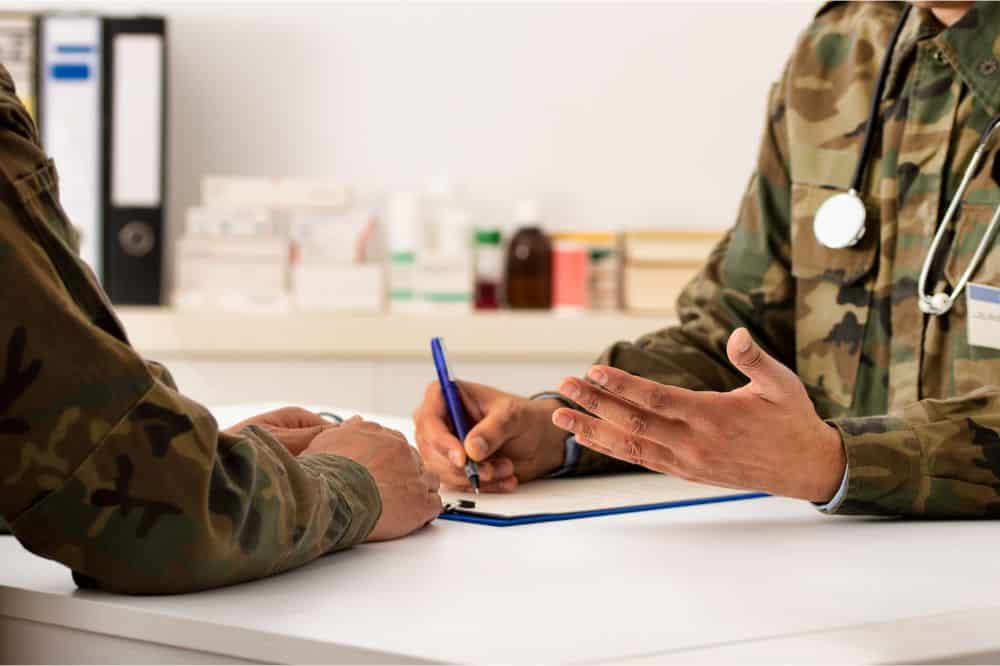 The Branches of Military Medicine
The AMEDD, or Army Medical Department, has a total of six branches of medical or health services that it provides to not only military personnel and dependents but sometimes to civilians too. Specialized military health services allow military members and their families to seek medical care directly through the military.
Let's take a look at the six corps in the military medical field:
Army Medical Corps
The Army Medical Corps currently has over 40 specialties under its belt. These include internal medicine, neurosurgery, anesthesiology, psychiatry, and more.
Medical Service Corps
This is one of the most diverse services in the AMEDD and includes medical administration, patient care, and overall management of the military health service system. This service is responsible for the "behind the scenes" services required to provide medical and health care to military members. Also included are lab services, pharmacy, preventative medicine, optometry, and behavioral sciences.
Medical Specialist Corps
Hospitals require specialist services. The military also has specialty services available to its members, including physical and occupational therapists, clinical dieticians, and doctor's assistants.
Veterinary Corps
The Veterinary Corps branch is responsible for the health and well-being of all service animals in the military.
Army Nurses Corps
The Army Nurses Corp currently has more than 10,000 soldiers that care for military personnel, their dependents, and retirees. They are also available to assist in natural disasters and support various humanitarian missions during war or pandemics.
Army Dental Corps
Dental health is just as important and necessary as physical and mental wealth, and the Army Dental Corps provide dental care, oral surgery, pathology, and public dental health to military and civilian members alike.
Conclusion
A career in military health is both rewarding and important. With excellent benefits and a great comparative salary, more civilian doctors are joining the military to become doctors and treat military members and their families. I cannot think of any better way to give back to your country than to become a medical doctor in the military.
With a wide range of fields and specialties to choose from, the perfect career in military health awaits. Read about how to become a doctor in the military above, and see if you have what it takes to join the military medical profession.