Published by Lookforzebras
There are several factors to consider when it comes to finding the right balance between work and private life for medical personnel. This may include whether you live in a rural area or a large city where many other personnel share the workload.
Your reputation may also play a role in a good life and whether you can afford more staff to help lighten the work. In this article, we will look at the different medical specialty jobs that will give you the best balance.
Read on and find out which medical profession is the most suitable for your personal preferences.
The Different Factors To Consider
As mentioned, there are different aspects to consider if you are looking for the best medical specialty work to provide a good work-life balance.
Income
This is one of the most important factors when considering a career in medicine for a good life balance. Even though many doctors study medicine because of their passion for helping others, there are still rewards to consider.
Financial rewards are at the top of the list because medical practitioners must also live and have dreams like everybody else. So, finding the job that pays the most is still a factor for most people studying to become doctors.
It also costs a lot to study medicine, and most doctors end up paying off student loans for many years.
Workload
You may think this is not an issue, but wait until you have no time for yourself or your social life. To perform at your best, you need to have some off time to recharge your batteries and face life.
To earn enough to live without being overworked is what everybody wants, including medical professionals.
Training
Some professional medical jobs require a lot of training to be qualified to do the job, which may take time and money. If you want to have a career in medicine and do not feel like studying too long, you may want to avoid that.
Overall, the difficulty of getting qualified for a certain specialty is also a factor you need to consider.
Your Future Life
Whether you want to get married and have children are some of the factors you need to consider as a medical professional. Many of these jobs will require you to work shifts and be away from home many hours per day.
Suppose you want to have a life, you need to consider while studying whether having a family is important for you. A life balance for someone in their late twenties might differ considerably from someone closer to their forties.
It would be best if you planned for things that happen in life, which may also change your goals in the future.
What Is the Best Specialty For a Better Work-Life Balance?
Following is a list of the most popular medical specialty jobs that will provide you with a good income and a good work-life balance.
Dermatologist
This branch of medicine is concerned with the skin and may be split into two directions, medicine and surgery. Many people consider this specialty the most rewarding career in medicine because of the good salary you can earn.
Another factor that makes it an attractive career is the flexible hours you can work without sacrificing your income. There is a lot of money in top-quality skincare, and most patients are also in the high-income bracket.
A dermatologist can work as little or as much as they prefer and still make a lot of money from their private patients. Dermatologists also have very few emergencies that will put stress on them and may interfere with their private lives.
This is also one of the most sought-after jobs, so the competition in getting such a job is quite high. Dermatology is one of the most competitive specialties in the US and worldwide.
There is also a steep learning curve involved with this career, and it may take a bit longer to become fully qualified.
General Practitioner
A career in family medicine is also known for its flexible hours and is the most rewarding for helping all types of people. A GP can also work part-time to earn enough money to make a very good living without too much stress.
Because there is not that much training involved as in the case of other specialties, you can start earning much faster. There are also many different types of jobs available for general practitioners if they do not want to have their own practice.
What is great about this career is that there is no high competition, so many can follow this career. Unfortunately, it is reported that this career does not have a high rating for happiness outside of the workplace.
Ophthalmologist
This medical specialty that involves diagnosing and treating eye problems has both surgery and medicine involved. Even though there is a seven-year course of training needed, there are very few emergencies involved with this career.
The chances that you will work night shifts are also very low, and you will have a lot of off-time hours if you prefer. Eye surgeries do not take that long, and you can still earn a very good income from this medical specialty.
According to the Medscape report, people following this medical career also have some of the highest self-esteem rates. This means that there is a lot of job satisfaction and you can have a lot of hands-on experience from the comfort of your chair.
If you want to work in the more popular care centers, they may require a Ph.D. from candidates, which can take even longer. Even though there is a steep learning curve, you may have a very rewarding work-life balance with this career.
Radiologist
What is great about radiologists is that they do not even need to leave their house to get their job done. With the right equipment at their disposal, a radiologist can get his work done from home while still earning a very good income.
Consultant radiologists can use the available technology, such as good video conferencing tools, and more. As a radiologist, you have a wide range of sub-specialties you can do to find a good work-life balance.
Radiologists can also opt for minor surgeries while they are not present and earn an income simultaneously. Doctors need radiologists so that you can have a very rewarding career with great benefits depending on your reputation.
This career may put a lot of strain on the eyes, and patients do not always value them.
Psychiatrist
Having a career as a psychiatrist is not very stressful and the hours are great if you want to have a good work-life balance. There are also a lot of private patients that make use of the services of this medical profession for a good regular income.
You will never need to work shifts in this career, and if you have your own practice, there are better financial rewards. You can spend more time with your patients and get much better rewards from positive results.
This job choice might be emotionally draining and may lead to not that happy of a private life. A lot of training is also required and may take some time before you will be able to earn from this career.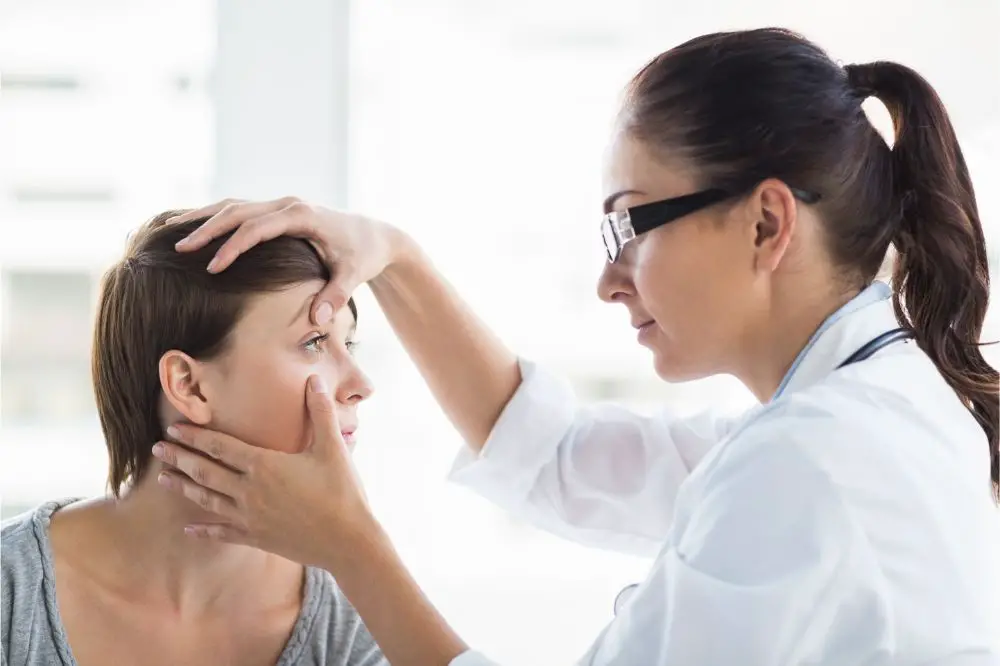 Otolaryngologists
Ear, nose, and throat specialists have very good working hours and can earn a good salary from different care centers. This is an interesting medical career, and surgery may be done occasionally if you are in a surgical specialty.
There are very few emergencies and many outpatients make use of the services of this type of medical professional. This means that an Otolaryngologist can have flexible hours and a much better work-life balance with a very low-stress factor.
This rewarding career provides you with a good income and work-life balance to make it worth the effort. Getting into this specialty is highly competitive and a lot of training is required before you can start earning.
Plastic Surgeon
As in the case of a Dermatologist, this career has a lot of high-paying private patients that can provide you with a good income. This specialty career can provide you with a good balance to earn a good income and have a good life.
Working hours are flexible and once you overcome the obstacles of the high rate of competition, you will have a great career. The training process can also be very taxing, and getting a job in this specialty is quite difficult and might take some time.
Plastic surgeons also have a very rewarding career and the profession comes with a lot of self-esteem. The only problem with this career is that it is very competitive, which might put people off from following this specialty.
Summary
These are only a few of the most balanced medical careers for a good job and a positive life balance you may pursue. Hopefully, this will help take you into a very rewarding career that may last a lifetime.