Published by Lookforzebras
I enjoy the thrill of opening up the results of a newly released physician salary survey. Maybe you can relate.
It's a glimpse into a topic that's seldom discussed with work colleagues. A chance to see how we compare to our peers when it comes to our pay.
It's motivation to negotiate a raise when our contracts are up for renewal.
Or, it's confirmation to our imposter syndrome selves that we are, in fact, doing OK. More than OK.
But salary figures vary from survey to survey. It's best to read these reports with a critical eye, and fully consider our personal situations in determining to what extent they apply to us.
Here is a comparison of main findings and methodologies from several of the more popular physician salary surveys that released results earlier this year. By combining them, you can get a better sense of the salary landscape than by looking at a single survey's results.
Physician salary survey comparison
The most robust physician salary surveys whose results are freely available are the following. (You may need to log in to the organization's site to view these.)
There are plenty of other surveys of physician salaries. Some reports cost more than I was willing to shell out for this article. The Medical Group Management Association (MGMA) Provider Compensation and Production Report is one of these, though MGMA does make a few key findings public, which I've included here.
Some surveys focus on a single specialty or are otherwise not highly applicable to a broad physician audience.
Several general career websites, such as Payscale and Glassdoor, have strong salary data but require that the user searches for specific job titles, companies, or other variables.
Average physician salaries across the board
Few physician salary surveys report overall physician compensation. This makes sense since pay tends to vary substantially by specialty.
Medscape relays that physicians in the US, on average, earn $313,000 per year. Primary care physicians make an average of $237,000 per year, while specialists make $341,000 per year.
The Bureau of Labor Statistics data is somewhat odd in that they have a $100 per hour maximum in their salary figure industry-wide averages, based on a 2080-hour work year. As a result, they report a median overall physician pay of "equal to or greater than $208,000 per year." For what it's worth, they note that pay for physicians and surgeons is "among the highest of all occupations."
Doctor salary by specialty
Salary data by specialty is easier to come across and, in most cases, more helpful to us as physicians.
The charts below show the average physician salaries for twelve specialties commonly reported in at least a handful of the surveys.
Blank spaces indicate that there isn't an average salary reported for that specialty in the survey report.
First, here are the average salaries of anesthesiologists, family physicians, internists, gynecologists, pediatricians, and general surgeons.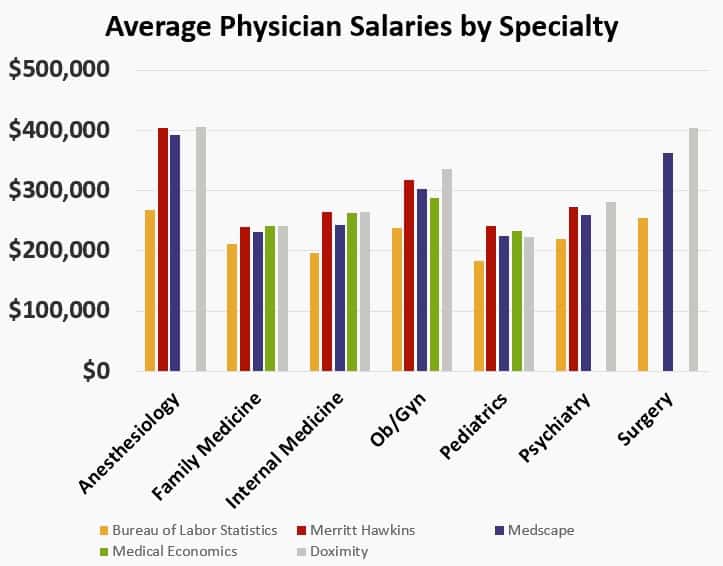 Next, the average pay for cardiologists, dermatologists, emergency physicians, radiologists, and urologists is shown below.
The highest-paid specialties
According to MGMA and Doximity, neurosurgery rakes in the most dough. They report annual neurosurgeon compensations of $883,020 and $616,823 per year, respectively.
As you'd expect, there is more variation in the salaries reported for the highly compensated surgical specialties than for most of the medical specialties.
Physician salary survey data splits
The average salaries by specialty aren't the only thing that you may find helpful.
Several surveys split their data by geographic region. MGMA survey results, for example, indicate that physicians in southern states make somewhat more than those in other areas of the country. Medscape and the Bureau of Labor Statistics report compensation by state, and Doximity breaks it down by metro area.
Similarly, data split by practice or employer type are common in these surveys and are useful for any physicians considering jobs in multiple work settings. Though the way that practice settings are categorized varies from survey to survey, in general, the data show that physicians in single and multi-specialty practices earn the most. Those working in academia and governmental settings earn the least.
According to Medscape's 2019 survey, self-employed physicians earn $359,000 on average, compared to $289,000 per year for employed physicians.
Most surveys are completed annually, so are able to show changes in compensation over time, as well. Use these figures to help you negotiate a pay raise even if you're not changing jobs!
Physician compensation is more than just the base salary
Some surveys attempt to find averages and trends in aspects of physician compensation other than base salary.
For example, Merritt Hawkins reports an average sign-on bonus of about $32,000 (ranging from $3000 to $225,000), with over 70% of their physician searches offering a signing bonus.
Differences in physician compensation survey methodology
As with any survey, there are numerous factors that impact the results. Survey methodology and design have a huge bearing on the resulting data. Salary surveys, in particular, need to consider variables that might affect a respondents' reported compensation. These include:
Differences in compensation models, which can significantly influence base salary
Various types of bonuses
Employment versus contractor work status, as well as practice ownership
Full-time versus part-time schedule
Here's a summary of the methods used for each of the surveys whose data is presented above: Doximity The Doximity survey uses self-reported data of physicians who practice at least 40 hours per week. The 2019 survey included about 90,000 licensed US doctors representing over 40 specialties. It uses multivariate regression to control for differences in a specialty, geography, and other factors. Medical Economics Medical Economics collects their salary data through the help of a research company who conducts an online survey. Though I was unable to find the number of respondents for their 2019 survey, it was 3,171 in 2014. This survey shines when it comes to compensation trends over time. Their most recent report compared physician salaries over a 7-year period. Medscape Medscape touts its salary survey as being the "most comprehensive and widely used physician salary survey in the United States." I can't say I'd argue with that. Their most recent report represents over 19,000 currently practicing physicians in more than 30 specialties. Results are modeled and estimated on the basis of several variables across 5 years of survey data and weighted to the distribution of physicians within the AMA database. Respondents to their online survey were specifically asked to report their compensation for patient care activities. The averages reported include base salary, bonus, profit-sharing, and profits earned (for practice partners). Merritt Hawkins Merritt Hawkins' survey is somewhat unique in that it tracks the average starting salaries of physicians placed in their search assignments. Their most recent results are based on 3287 permanent practitioner searches which they conducted. MGMA MGMA's survey is the self-reported "most comprehensive view of provider compensation in the United States." It includes more than 147,000 physician and non-physician providers from over 5500 organizations. Without purchasing the full dataset, the details of the methodology are unclear. Bureau of Labor Statistics The Occupational Employment Statistics survey is a cross-industry survey of wage and salary workers in the US. The Bureau funds the survey, and the State Workforce Agencies collects the data. Their semiannual surveys sample about 200,000 workers, with estimates based on responses collected over the most recent 3-year period. This survey does not cover self-employed, owners, and partners in unincorporated firms, which may be part of the reason that specialty averages are somewhat lower than those reported by other physician salary surveys.
References
2019 Physician Compensation Report. Third annual study. Doximity. March 2019. Retrieved from https://s3.amazonaws.com/s3.doximity.com/press/doximity_third_annual_physician_compensation_report_round4.pdf on 18 July 2019. 90th Annual Physician Report. Medical Economics. Retrieved from https://www.medicaleconomics.com/physician-report/90th-annual-physician-report-salaries-stagnant-declining-most-doctors on 18 July 2019. Bureau of Labor Statistics. U.S. Department of Labor. Occupational Outlook Handbook, Physicians and Surgeons. Retrieved from https://www.bls.gov/ooh/healthcare/physicians-and-surgeons.htm on 14 July 2019. Medscape Physician Compensation Report 2019. Retrieved from https://www.medscape.com/slideshow/2019-compensation-overview-6011286 on 18 July 2019. New MGMA Research Finds Physician Compensation on the Rise. MGMA. May 30, 2019. Retrieved from https://www.mgma.com/news-insights/press/new-mgma-research-finds-physician-compensation-on on 18 July 2019. Physician Compensation Surveys/Data. Merritt Hawkins. Retrieved from https://www.merritthawkins.com/candidates/job-seeker-resources/physician-compensation/ on 18 July 2019. Where doctors are paid the most (and the least), according to MGMA. Advisory Board. June 5, 2019. Retrieved from https://www.advisory.com/daily-briefing/2019/06/05/physician-compensation on 21 July 2019.