Published by Lookforzebras
It's easy to get mixed up with medical words. And it's especially difficult to tell the difference between a forensic pathologist and a medical examiner. You may assume both mean the same, and some use the term interchangeably. For example, if you're looking for the answers to the cause of death of someone, then the above experts give their findings from a medical point of view.
But the two medical experts are quite different in their roles, training, and qualifications. If you're aspiring to be one of the above specialists, read on to find out more about a forensic pathologist and a medical examiner.
Who is a Medical Examiner?
A medical examiner steps in to inspect and examine the death of people after an unexpected, sudden, and violent death. Through this investigation, they will know the cause and manner of cessation. You must apply your expertise as you collect tissue samples for further examination, perform a physical examination of the body, and review their medical history.
The whole death investigation process is complex, which is why these specialists go through medical training and spend a good number of years in school. You don't have to obtain a specialty in pathology to become a medical examiner, but this depends on the state you practice. Some may demand certification to practice, while some don't need the certification.
As a medical examiner, you will team up with public health officials and law enforcement personnel and provide them with your findings and reports. it's your duty to compile a death certificate and collect samples for further findings by the pathologists. Other responsibilities of a medical examiner include:
Investigate the cause of the sudden and unnatural death of a victim. You may sometimes team up with law enforcement officers during your investigation.
Examine specimens, tissues, organs, and fluids for anomalies that might have caused death.
Ascertain different laboratory tests during postmortem examinations.
Serve as an advocate for victims who are unable to advocate for themselves.
Consider the deceased medical history and inform families about infectious diseases such as cancer.
Who is a Forensic Pathologist?
A forensic pathologist is a specialist who examines the manner and cause of anyone who dies a violent, sudden, and unexpected death. They go through years of learning and training to attain a forensic pathology specialty. After attaining their undergraduate degree, they start by attending a four-year medical school for their medical degree, followed by a three-year pathology residency. In addition, a forensic pathologist must complete a fellowship program that takes one year and be a licensed physician.
Performing a complete autopsy demands extensive medical specialty and forensic science training to understand the autopsy process. Here you have to identify whether the victim died due to sickness, poisoning, or another violent act. Then, the expert examines all the samples to recreate the person's injuries based on the facts gathered by law enforcement.
Forensic pathology is one of the most intriguing careers for medical students and offers you an opportunity to be part of anatomic pathology. And so you need to be a board-certified forensic pathologist. Apart from establishing the cause of death, other roles of a forensic pathologist include:
Analyzing crime scenes by working closely with law enforcement staff.
Examining microscopic samples and performing other autopsies. For instance, you can identify the absence or presence of a natural disease, poisoning, or injury.
Documenting sexual assault and reconstructing how the victim received the injuries.
Testifying in a courtroom and presenting the autopsy findings as medical evidence.
Hired to work as a death investigator to assess the scene and time of death and interpret the injury patterns.
Involved in DNA technology and forensic serology. In addition, you're further trained in various areas of toxicology and wound ballistics.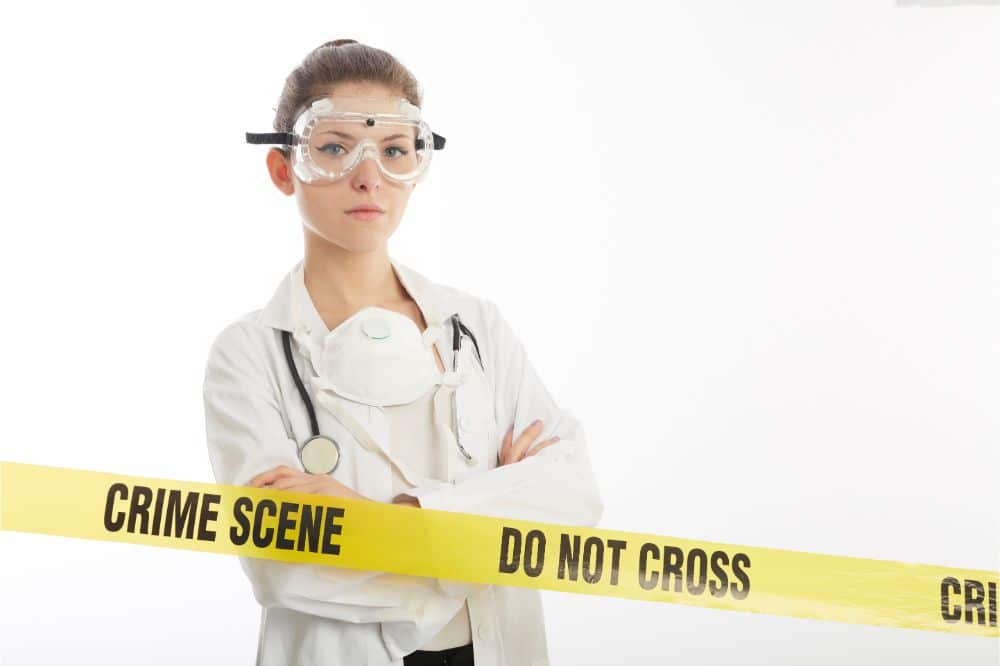 What's the Salary Range of Medical Examiners & Forensic Pathologists?
Aspiring medical specialists know that they have a competitive basic salary. But the payment is based on one's education and training level. So if you're at an entry-level, you should expect a lower salary than an experienced staff. Below are a few examples of the average salaries of pathologist specialists in different countries in 2022. But some may earn more or less the average salary.
In Japan, the average annual salary is 17,200,000 JPY.
In Germany, the average salary is 115,000 EUR per annum.
In Canada, a pathologist can expect a 65,000 CAD annual salary.
in Indonesia, pathologists earn an average salary of 412,000,000 IDR
Working in different countries will give you a different pay range both as an entry-level or experienced staff.
Who is a Coroner?
A county may elect or appoint someone to act as a county coroner. According to CDC (Centers for Disease Control and Prevention), they don't necessarily have to be doctors but can be private citizens or even a sheriff.  They are responsible for investigating the sudden death that is judged violent. Coroners certify the death, but they do not conduct autopsy services. Below are other responsibilities of a county coroner.
Compiling and keeping reports of each victim's investigation.
Identifying skeletal remains, whether they are humans or animals.
Issuing of death certificates and states the cause and manner of death.
Identifying the victim by carrying out DNA fingerprints or other medical records.
Determining, locating, and notifying the next of kin of the deceased person.
Scene investigation and collection of trace evidence.
Nature of Work for Medical Examiners and Forensic Pathologists
Pathologists enjoy plenty of career opportunities with good pay. You are not just based in a hospital facility, but you can work in other areas needing your services. For instance, you can work for a medical school, county & government offices, group, or/and private practices.
Due to the nature of your job, you may spend a significant amount of your time in the examination of persons performing autopsies, examining samples writing reports, and sometimes appearing in court.
A normal workday might last 10 -12 hours or more, especially if you're investigating a remote death scene.
What are the Personality Traits of Pathologists?
Whether you're a medical examiner, clinical pathologist, or any other medical responsibility, you know that the job is demanding. From spending years in college followed by additional training, you need other qualities to cope in your career.
Effective Communication – You will explain your finding to family members, medical staff, county attorneys, other pathologists, and even law enforcement officers.
Strong Ethics – There's a need to have a strong desire for fairness and general concern for others. This should be part of your social responsibility.
Strong Analytical Thinking Skills – You should be meticulous, dependable, and often think and plan ahead of time.
Conventional – It's crucial to be a detail-oriented and organized person who loves operating in a structured setting.
Investigative – You have to be an interested and curious person who enjoys spending time alone with your ideas.
Work Under Pressure – You will find yourself in many emotional situations, yet you must work under all the pressure while accepting criticism.
Conclusion
Medical examiners and forensic pathologists are confusing for many people who assume they mean the same thing and perform the same duties. But these are two different experts who are crucial in the medical examination services and autopsy services.
Diagnosis of disease, whether natural or infectious, is part of their roles combined with the above-explained responsibility. If you're aspiring to be any of the two experts, you need to prepare yourself for the years in college and extensive training before becoming a pathologist expert.