Published by Lookforzebras
Medical expert witness work is a popular side gig for doctors. The hours are flexible, the cases are interesting, and an expert can play an important role in a legal proceeding. Moreover, because it requires specific education and proficiency, it tends to compensate well.
But getting started as a medical expert witness can be challenging – especially when you have no experience doing this type of consulting work.
To assist it getting identified and retained as a medical expert witness, some physicians have their own websites. Others depend on word of mouth, expert directories, Linkedin, and/or networking with law firms. There is no right or wrong answer to whether a doctor should have a website for their expert witness side gig. However, there are pros and cons either way, and several factors that should be considered.
This article briefly covers the advantages and disadvantages to having a medical expert witness website. Then it provides 9 examples of real-life physician expert websites and an explanation of what each site does well.
Why have a website as a medical expert witness?
There are several reasons that running even a very simple website as a physician seeking medico-legal consulting work can be beneficial.
Legitimacy
When you do work as medico-legal expert, you're essentially running a small business. Having a website as a small business has become increasingly common and expected. Prospective customers and clients of all types often use a web search to find out information about the service or product they are considering buying. A website owned and run by the business itself is considered an "official" source of information. To some extent, a website provides legitimacy to a small business.
Publicly available CV 2.0
Many physician medical expert websites are simply glorified CVs. They have sections or pages including education, training, publications, and professional affiliations.
But a lawyer considering retaining you as an expert will ask for a copy of your CV regardless – so is it worth it to keep both a Word document and a website updated? It can be. An online CV means that a lawyer can see it without actually having to get in touch with you. Your qualifications may sway him to reach out.
Additionally, an online CV has more capabilities than a PDF version. You can, for example, include links to your publications, to your medical practice's website,  and to your medication association site. There is also no standard or expectation for how the information will be arranged on a website, meaning that you can choose the order and aspects to highlight or feature. You can display your background in whatever ways you feel will best demonstrate your expertise.
Advertising
In addition to including the information traditionally found in a CV, many expert witness websites contain additional details that lawyers tend to be curious about when they are seeking an expert. This includes the consultant's areas of expertise, their geographic location, and their history of expert witness work and cases.
Google searches for any of this info can land a lawyer on an expert's website if the relevant terms and keywords are included. A website can get you found by a lawyer when he or she might not otherwise find you. Following that, it can be the deciding factor in whether they will email you or call you rather than keep searching.
A website can be a great advertisement.
The risks and disadvantages of having a website as a medical expert witness
On the other hand, there are downsides to having a website.
Any information on your site can be used against you
Your website will be viewed not just by the law firm hiring you as an expert, but also by the lawyer from the opposing side. That lawyer may be looking for anything that decreases your reputability, any inconsistencies or inaccuracies, or any other fodder against your suitability to serve as an expert.
Most physicians have at least some amount of an online presence, such as a profile on their employer's or practice's website. The more places you show up on the web, the more material an attorney has to work from – for better or for worse.
Development and upkeep
It takes time to develop a website. Those who aren't familiar with web design need to either take the time to learn how to do it or hire someone to develop a site for them. Your site must look professional in order to gain litigators' trust.
Once your website is live, it's important to keep all your information updated. You definitely want to avoid any discrepancies between your website and your physical CV. Other updates will be needed from time to time due to software updates, for instance.
Advertising
Advertising was listed in the previous section about reasons you should have a website for your expert witness practice. The fact that a website can qualify as an advertisement means that it is also a risk.
The opposing lawyer may ask if you advertise or market your expert services. By merely having a website, your answer to this question will be Yes. This information might be used to argue that your expert opinion is biased because, presumably, you're deliberately tracking down paid consulting work.
Nonetheless, whether the jury cares about this is a different question. As mentioned previously, your expert witness practice is a small business, and it's commonplace for small businesses to advertise.
Examples of medical expert witness websites
So, given the risks and the potential benefits, if you decide to have a website, what should it look like? It's ultimately up to you, but you may benefit from some inspiration and ideas! Here are 10 examples of websites of physician expert witnesses and a quick description of something that each of them does well.
Sanjay Adhia, MD of Forensic Psychiatry Now is an expert in brain injury medicine and forensic psychiatry.
His "Answers for Lawyers" section has over a dozen articles on medico-legal topics related to his areas of expertise, including how head injuries can produce psychiatric problems, how dementia differs from a brain injury, and the differences between personality disorders. These articles help his site show up in Google searches.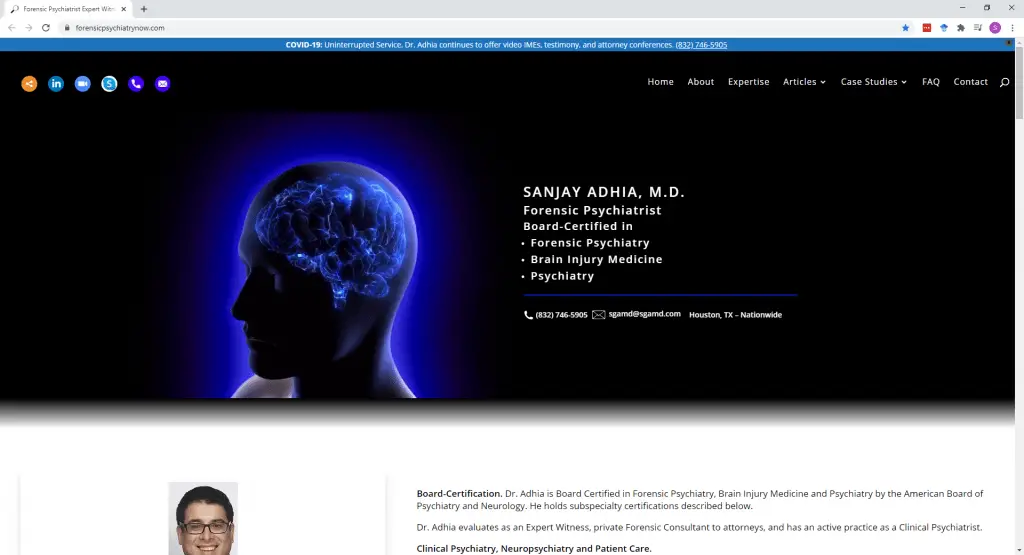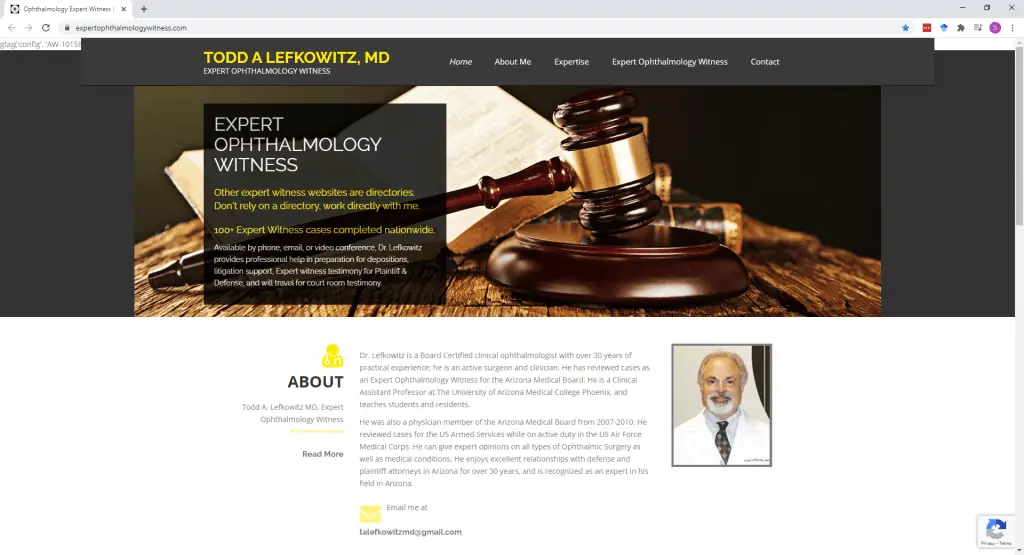 Todd Lefkowitz, MD of Expert Ophthalmology Witness is an ophthalmologist with over 30 years of experience and an assistant professor at the University of Arizona Medical College.
Dr. Lefkowitz has expertise in cataract surgery, oculoplastic surgery, refractive surgery, and glaucoma. But, rather than simply listing these as his areas of expertise, he has a short page providing a description of each of these conditions and a general overview of some of the legal topics related to them. He ends each of these pages with a "call to action" to learn more about his expert witness services by contacting him.
James Lineback, MD is a board-certified pulmonary internist with expertise in the use of advanced technology in the emerging field of anti-aging medicine for the early detection and reversal of coronary heart disease.
This website provides concise descriptions of over 20 cases that Dr. Lineback has been involved with. They are grouped by subject, and each one includes the issue for which his expertise was used. Lawyers can read these to quickly get a sense of whether the case at hand may be a good fit for his services.
Kevin Griffiths, MD of Griffiths Renal Consulting is a nephrologist and hypertension specialist.
What Dr. Griffiths does well with his site is giving lawyers a chance to get to know him personally. He uses the first-person to describe himself and his practice. (It is possible to use the first-person and still come across as professional!) He also includes a video interview of himself and a visual representation of some of the awards and accolades he's received.
Scott Choi, MD of Gastroenterology Expert Consulting has two decades of gastroenterology experience and a decade of expert witness experience, including hundreds of case reviews.
Where this expert witness site shines is in the way that it encourages readers to get in touch. Dr. Choi's contact information is clearly displayed in an unobtrusive banner at the top of every page, including his email, phone number, and link to his Linkedin profile. He also makes good use of a "Request Consultation" button in his header that can't be missed.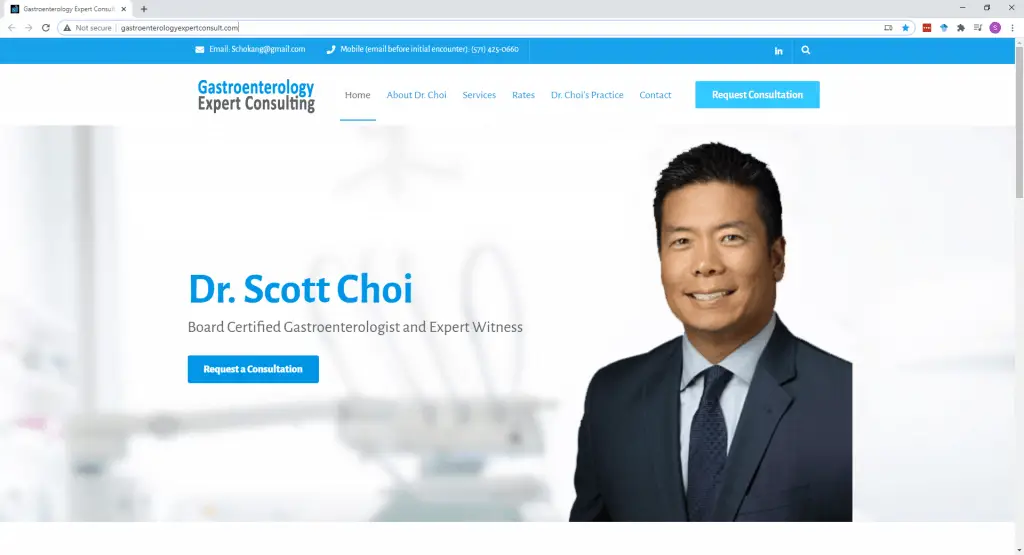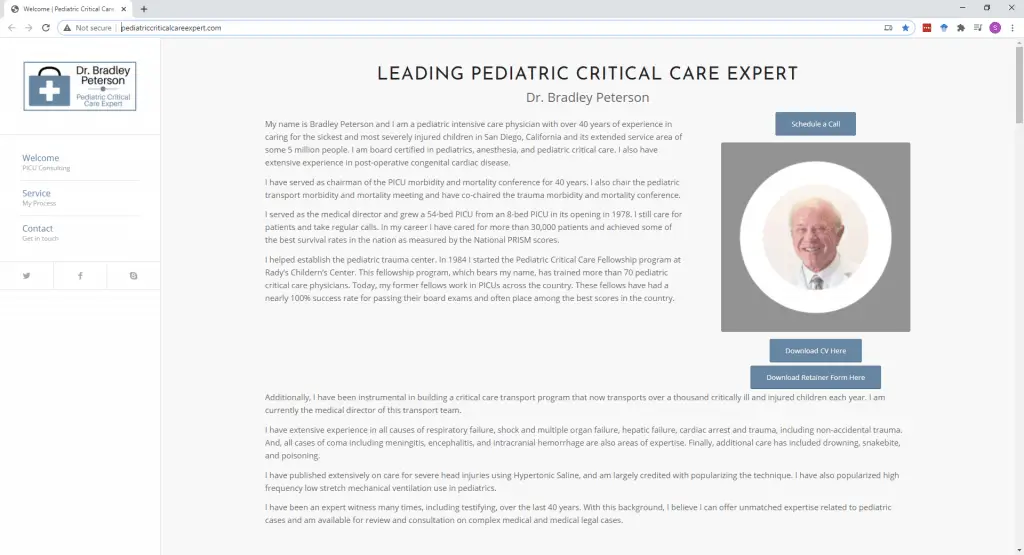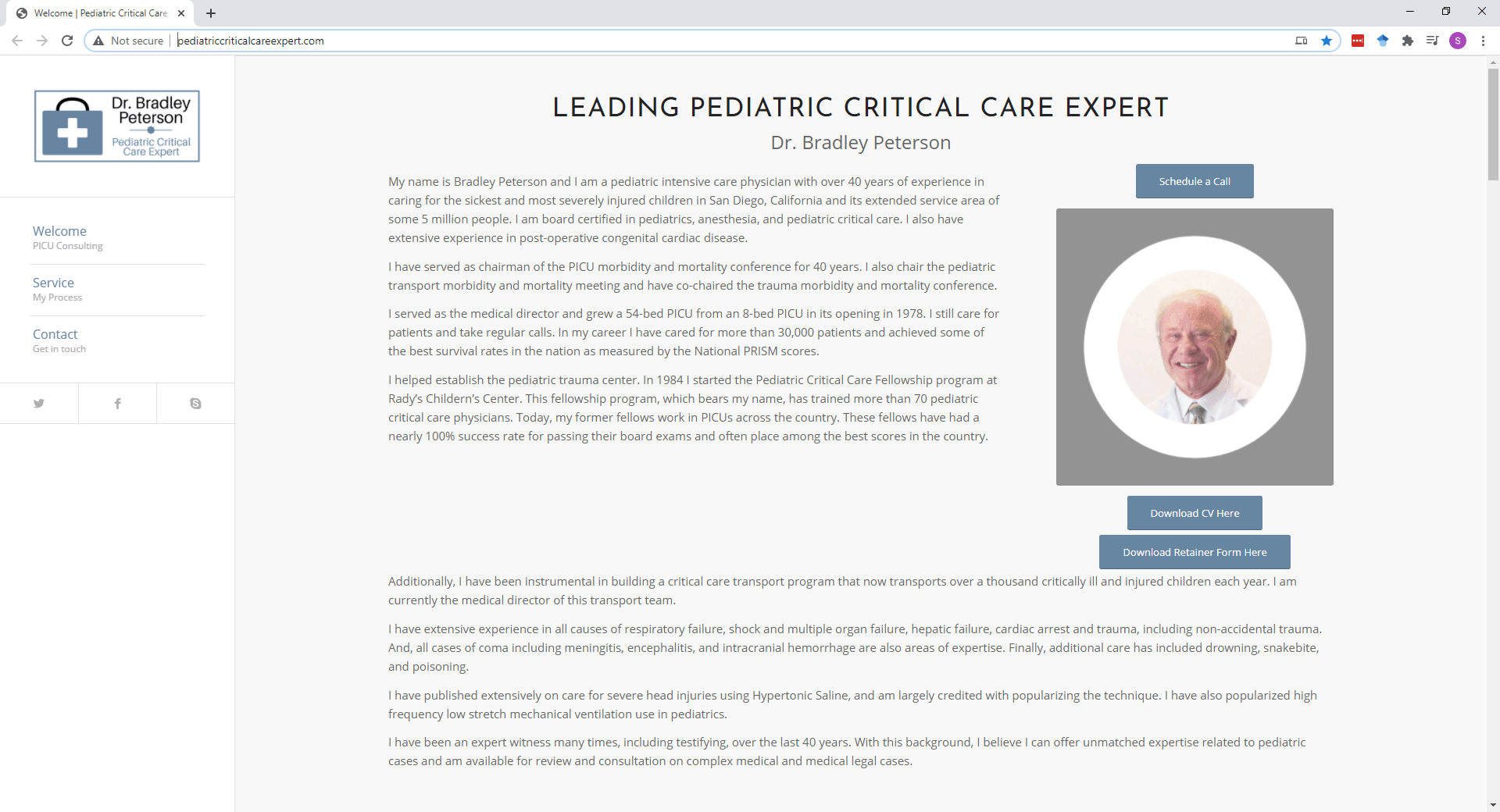 Bradley Peterson, MD of Pediatric Critical Care Expert is a pediatric intensive care physician with extensive clinical, teaching, publishing, and consulting experience.
Generally, the more experience you have as a consultant, the more selective you can be when deciding which cases and law firms to be involved with. Dr. Peterson obviously has a lot of experience, and his selectivity comes through in his website. He makes it clear how he prefers to work with attorneys, what his expectations are, and what steps they can expect during an engagement with him.
I wouldn't recommend this approach for physicians just getting started with expert witness work, but it certainly is something to consider once you have experience and begin to get selective in your engagements.
Jean-Paul Dym, MD is a neuroradiologist and an expert in analyzing and evaluating misdiagnosed studies. He also lectures extensively regarding errors and missed findings in radiology.
Dr. Dym's one-paragraph blurb about himself really packs a punch. It is succinct, but contains all the information that a lawyer wants to know when they are initially considering an expert for a case:  background, qualifications, areas of specialty, and experience as an expert consultant. He doesn't overstate his expertise, but he does make it clear that he knows what he's talking about and includes quantitative information when possible.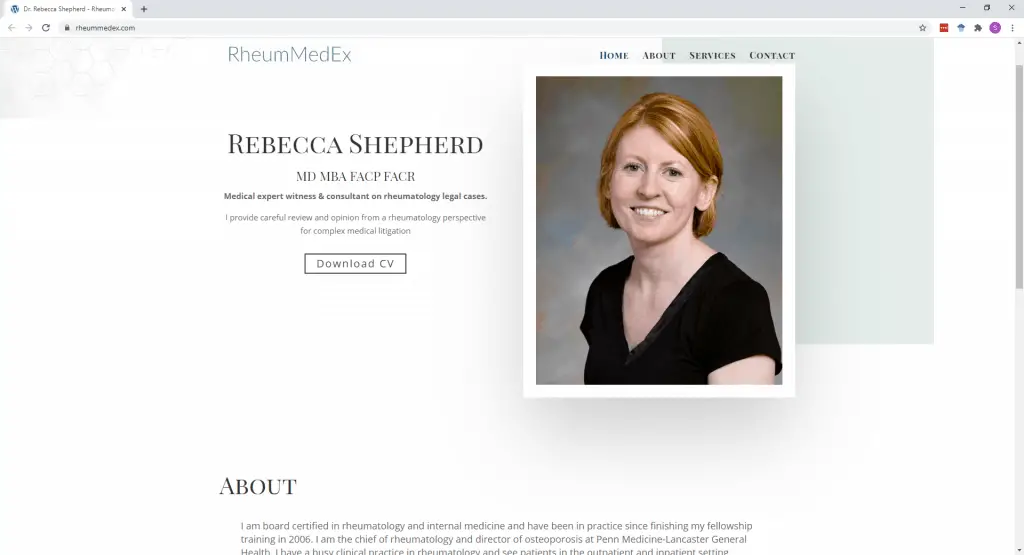 Rebecca Shepherd, MD of RheumMedEx is a rheumatologist who is both the chief of rheumatology and the director of osteoporosis at her institution.
This website is a simple, one-page site that allows readers to view all its information without clicking around from page to page. This represents a solution for a physician wanting to quickly design their own site or to get a site professionally developed on a low budget. Dr. Shepherd's site demonstrates that a medico-legal expert's website doesn't even need to have more than one page if a single page can accomplish the goal.
Meyer Solny, MD is an internist and gastroenterologist whose legal consulting cases have involved failure to diagnose colon cancer, complications of colonoscopy, indications for gastrointestinal procedure, chronicity of gastrointestinal disabilities, and more.
Dr. Solny makes great use of client testimonials throughout his website. He includes short but meaningful quotes from lawyers he's worked with on the sidebar of every page. For example, he includes a quote stating that his "opinions made a significant difference in our ability to settle this matter." So, while a page may focus on his background, his areas of expertise, or his previous cases, he doesn't miss an opportunity to let readers know how his work has been received by previous clients.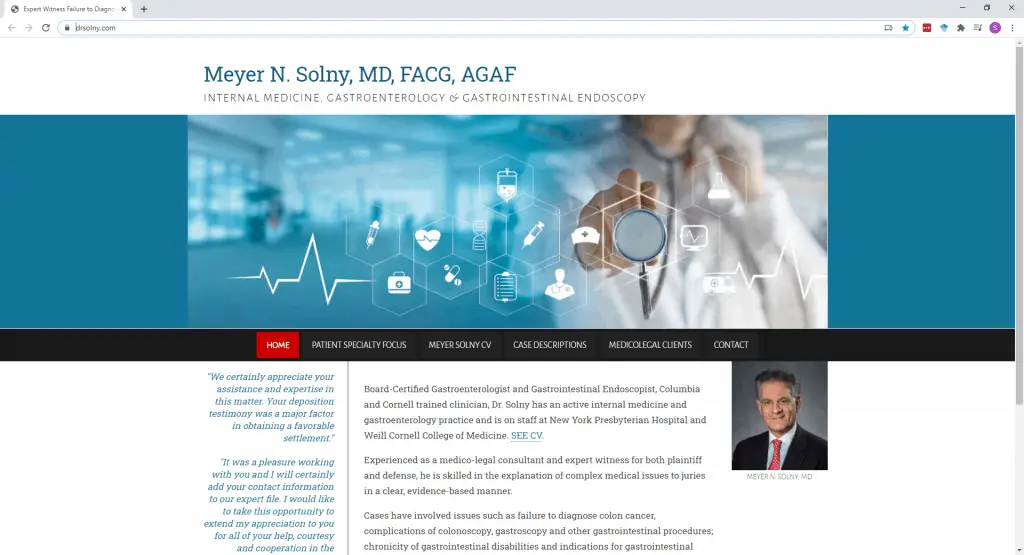 Conclusion
There is no "right" answer to the question of whether to have a website as a medical expert witness. If you do, though, here are a few rules of thumb:
Know what purpose you want your website to serve.
Keep your site updated and consistent with your CV.
Don't overstate your experience or expertise. As you design your site, imagine every page of your website getting displayed as an exhibit at trial. This could actually happen.
Make it easy for lawyers to contact you.
Incorporate elements of search engine optimization (SEO) to help your site get found.
Do you have a website for your medical expert witness work? Share the URL in the comments below!